Dr Kate Kenyon and a small group of volunteers from Sewing4Kingston formed RBKares (Royal Borough of Kingston Cares) in October last year. They are now putting their efforts to help NHS by supporting Kingston Hospital staff.
The group of volunteers got to know many of the Care Home staff in the borough after distributing fabric face coverings, hair scrunchies, laundry bags and scrubs to them. It became apparent that these men and women were in need of some thanks and support after a hard year of Covid. We set to and got Christmas presents for all staff and all residents with no family – and despite changing Covid tiers managed to distribute approximately 3,500 gifts and homemade Christmas cards from local school children. Residents were given presents suited to their interests – including a gentleman who liked Chelsea Football Club and when contacted, Frank Lampard donated some items! The whole community got on board with donations, wrapping presents, making gift bags for locally sourced candles and hand-creams.
This time its the NHS who gets their support
Hardly had the decorations come down in the New Year, when Kate started a new campaign. Still using the RBKares name but this time sending well-being parcels and support to the staff at Kingston Hospital. The group of volunteers has expanded and the scale of this project is as big, if not bigger than the Care Home one.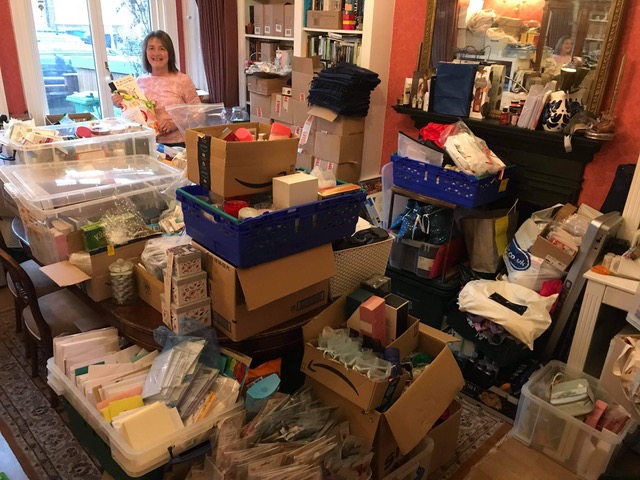 There are three areas of "care" that are happening, all in consultation with the Kingston Hospital Charity department.
Firstly, we have set up a Crowdfunding page – We have a minimum target of £20,000 and are currently at just over £16,000 + gift aid. This money goes direct to the Fundraising Charity (hence they can claim the gift aid). The Hospital decides how best to spend this money. So far it has been used for hot meals for the staff in A&E, ITU, and Covid wards amongst others. The fund will also be used for psychological support for the very stressed and overworked staff who are seeing and dealing with things that they never thought possible.
Click here to visit the page – if you are able to donate the hospital will be very grateful.
Secondly, RBKares has an Amazon wish list for snacks and coffee etc. for the staff to grab on their short breaks and refuel them. The staff are all doing very long and arduous shifts, sometimes barely having time to eat – these snacks are proving very popular.
Here is the link to the items most requested and liked – again if you are able to buy anything from this list it would be most appreciated. The parcels are delivered directly to our hub, quarantined, unpacked and delivered to the hospital by our volunteers.
Thirdly, RBKares have been making up well-being bags for the staff, some of whom are off work with Covid or extreme stress. These are handmade and embroidered tote or drawstring bags (all made by an army of very talented sewers and embroiderers from donated fabric and pillowc ases). Inside there is a homemade card with a thank you message, a mindful activity (jigsaw, adult painting by numbers, diamond art, embroidery kits, puzzle books etc.), a selection of treaty toiletries and hand cream, a scented candle and some lovely chocolates, as well as a fabric face covering. All to show that we, as a community care and appreciate the hard and selfless work the staff do every single day. Again, we are using locally made products where we can.
All these items for the bags have been donated by local communities. There are various donation points where gifts are accumulated and quarantined before going to the hub – Dr Kate Kenyon's front room. Here they are sorted into groups and volunteers pack, socially distanced in her front garden.
We have been very lucky with donations not just from the local individuals and communities but also from local businesses and charities, and other companies further afield. Thank you to them all for their support.
RBKares have also responded really quickly with requests for embroidered sleeveless fleeces for the staff to wear when they have to meet patients at the ambulances or do consultations outside. Some of the sewing ladies have made special teddy bear fleeces and embroidered them for the A&E paediatric staff.
We have a Facebook page too!