Darling speaks to TV star Debbie Arnold to find out how she transformed a lockdown catch-up into The Wonderbirds Show, an online talk show with over two million social media impressions.
Debbie Arnold proudly holds the title of the only actress in the UK who has regularly appeared in every major TV soap over the last 30 years. Coronation Street, EastEnders, This Morning appearances, the West End, voice over work, Radio 4 and Soho Radio talk shows aside, how did a Zoom catch-up with friends hit a million views in three months?
Apart from shining some much-needed sunlight into the lives of many with The Wonderbirds Show, what have you been up to during lockdown?
So, the evening lockdown was announced, I had a Zoom call with my friends Sherrie Hewson, Harriet Thorpe, and Dee Anderson. It was so funny that I said to the girls, "we should publish this online". The official lockdown began on the 23rd March and Wonderbirds' first episode was on the 27th. We've done over 60 shows since then.
Since the show started, it has been all-consuming – with four shows a week producing as well as presenting, it's taken up all my time. We want to seem relaxed, and it actually really is, but we do have to do a lot of planning, booking guests, and sorting out prizes. Outside of Wonderbirds I do walk my three dogs daily in the woods – they keep me sane! And I love catching up with my daughters and my grandsons.
I've worked in TV and films for a long time and that really trains you to be able to work in lots of different situations. Working in soaps, youre filming on tight time schedules and fast turnaround of content is pressurised, but it's always scripted, and you know the outcome. Our show is produced in the sense that we all know the topics and the guests, but we really want it to be fluid. We all feel that it means the guests are more relaxed, the conversation is allowed to go where it needs to and, of course, we have lots and lots of laughs.
What is it about The Wonderbirds Show, in your opinion, that has spiked its popularity?
We are very honest and authentic. We are unique to our age demographic. There's nothing else like us online. We are all passionate, successful women who like to chat about girly things – makeup clothes, our kids, our dogs, our hopes and fears, and our lives in show business. We just talk and feel good. It's important to us to make sure our viewers come away feeling upbeat and positive in these tones.
I also think viewers like the fact we don't address anything political, either. We are light-hearted but compassionate at the same time – we don't take ourselves too seriously. We have had some amazing guests – Paul O'Grady, Gok Wan, Rosemary Shrager, The Speakmans, stars of Coronation Street, Holby, and Casualty… The list is endless! They are all available on catchup, too. Richard Arnold is with us most Saturday mornings and he is brilliant. We have our resident cosmetic doctor, Dr Tracy Mountford, who gives us the inside info on all the latest treatments, and Miss Anne Henderson, a menopause specialist who is fun and informative on a subject that's very important to every woman.
We also have a soap correspondent, Stephen Murphy from Inside Soap Magazine, too, and a regular showbiz correspondent – the show biz editor of the Sunday Mirror, and a resident vet: This Morning's Dr Scott. Not bad for a show that's only 20 weeks old.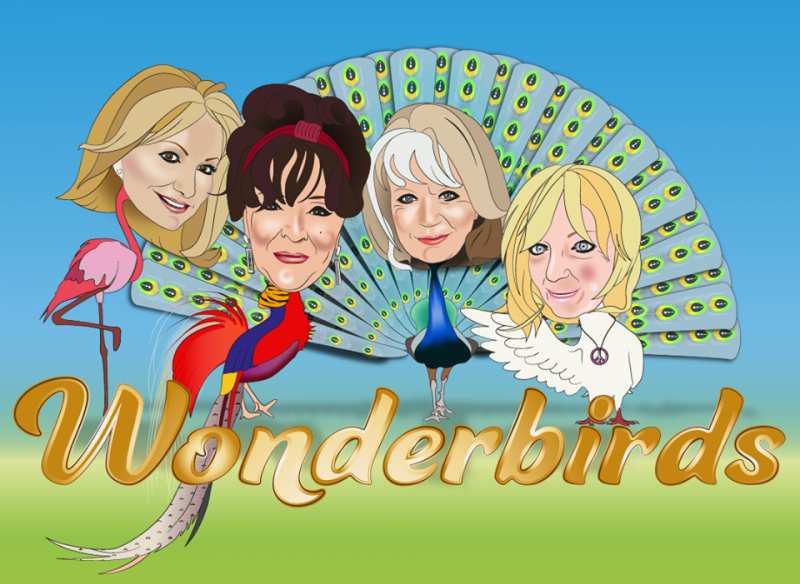 Is it your Cobham home that we get a glimpse of in The Wonderbirds Show? What's your favourite thing about living in Surrey?
The first part of the series I was living in Thames Ditton, but I've just moved back to Cobham – I couldn't stay away! I love Cobham and have lived here for almost 30 years. I also love doing up houses. If I hadn't been an actress, I'd have been an interior designer. There's nothing more exciting than creating a beautiful home. Cobham is idyllic and so rural in places and yet I can be in London for a show in 40 minutes. I feel very lucky that my family haven't moved out of Surrey, either.
Do you have any well-kept Surrey secrets you'd like to share with our readers?
Well, I am not sure they are secrets, but I go to the Ivy for great food and ambience. The Old Plough in Stoke D'Abernon was my local for many years – superb food, too! Fego is my go-to café with the family. An extensive menu, very impressive service and the queue says it all. I get a lot of clothes from Evie Loves Toast, and gifts too.
Has the lockdown impacted your work with the National Bullying Helpline and Buses4Homeless? What challenges have you had to overcome to continue supporting them?
Covid has affected so many of us and of course my charities. The National Bullying Helpline has been working throughout supporting people during this time. Buses4Homeless has been affected, too, but I hope they will get back up and running when they're allowed to.
Watch Debbie Arnold, Sherrie Hewson, Harriet Thorpe, and Dee Anderson on The Wonderbirds Show on Facebook or Youtube on Mondays, Wednesdays, and Fridays at 4:30pm, or catchup anytime.
You might also enjoy reading: