Heston Blumenthal reportedly said that female chefs weren't reaching the upper echelons, as "the body clock starts working" and, after having children, they find it "difficult to lift heavy pots and pans.". Asian food writer, Terry Tong chats to three female chefs, all mothers, who have found a way of climbing to the summit of their careers.
SAIPHIN MOORE
Saiphin Moore, aged eighteen, left her home farm in the mountains in North Thailand for Hong Kong, not speaking English or Cantonese. She and her husband, Alex Moore, co-founded Rosa's Thai Café in London in 2008. Nineteen sites have sprouted up throughout London and beyond. She has published two cookbooks.
She fought for the first site in the competitive bidding process. She presented her peanut sauce. She recalls, "We had no money! We set up our restaurant with a Hong Kong credit card and money from selling my farm in Thailand". By 2009, she had her eye on a second site. They sold their property in Hong Kong and "put everything in" to finance the second site. Amidst this frenetic period, her youngest son was born in 2010. Her restaurant empire has more than doubled in the last three years.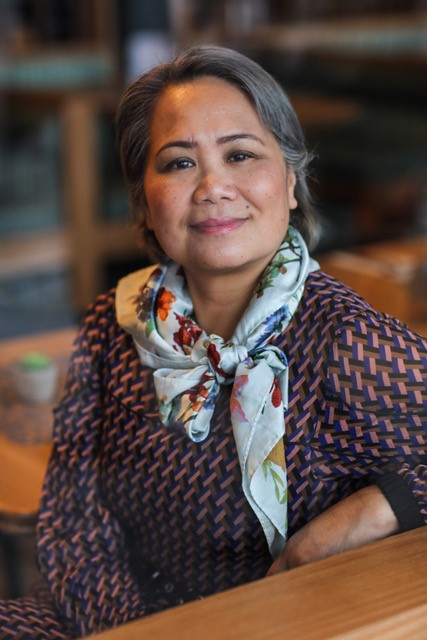 Aged fourteen, she set up her own noodle shop. She reminisces, "When I was seven I helped my parents in their grocery shop. I used the money from my farm to fund my trip to Hong Kong. One day, I could see a star moving in the sky. I didn't know that it was an aeroplane." Later, she jumped at the chance of a nanny job in Hong Kong. Like her parents, she opened, aged 23, a grocery shop in Hong Kong, and then a restaurant. Did her seven-year-old self imagine that she would have her own grocery shop and restaurants?
MAUREEN SUAN NEO
Little did Maureen Suan Neo know that all that pounding of lemongrass in her parents' kitchen would lead to a glittering career in food. Nonya Secrets Malaysian/Chinese sauces mostly derived from her restaurant kitchens of 31 years. She ran 4 restaurants with her husband, John Arumainayagam. Loyd Grossman named her first restaurant as one of his top 100 London restaurants in a Sunday Times article in 1985.
By 1997, she had four restaurants in the City. "From Day One, it was full with queues round the block", she pronounces, "We had fantastic reviews from e.g. Fay Maschler". Loyd Grossman described her as "one of the best Asian cooks in Europe". His book, "The 125 best recipes ever", featured one of her recipes (from her cookbook, "Red Heat") alongside those of Michel Roux, Raymond Blanc and Gordon Ramsay.
Aged nineteen, she saved up to fly to England from Singapore for a secretarial course. She had wanted to go to university in Singapore but her parents could not afford it. "I came to England with just a suitcase".
Maureen recalls: "I had learned to cook from my mum in Singapore. Aged four or five, I started with the easy jobs like peeling onions. Mum, a Nonya – Chinese/Malaysian wife, cooked at least half a dozen of dishes for lunch and different dishes again for dinner".
In 1982, their first restaurant in Fulham was born and so was their eldest daughter. She was born the day before the restaurant opening. Maureen had to go into hospital, so she missed the opening night.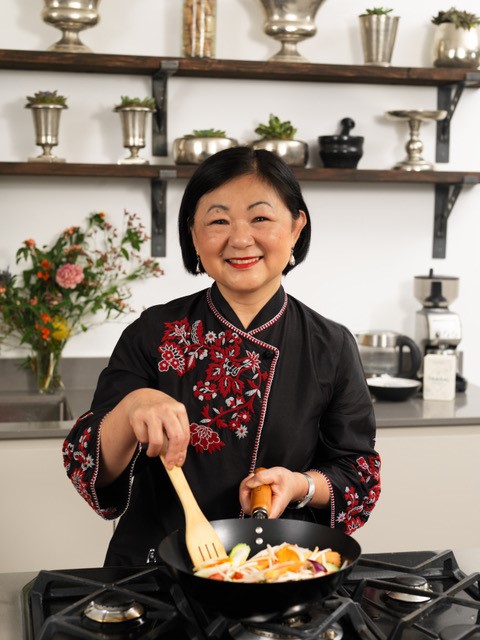 After Lehman Bros' bankruptcy in 2008, bottomless corporate entertainment expense accounts ceased. Maureen and her husband decided to shut up shop in 2013. By then, they had started a new business selling "Nonya Secrets" sauces. Her sauces derived from "recipes handed down from my Peranakan heritage, a fusion of Chinese and Malay cultures", Maureen enthuses. They are sold in Harrods, Harvey Nichols, Selfridges and others and online: nonyasecrets.com.
SUZUE AOYAMA CURLEY
I was struck by the clever use of Japanese ingredients in "Couture Chocolates" and "Patisserie" cookbooks of William Curley brand, the world-famous chocolatier and pâtissier. This was in 2011. The different flavour combinations and textures heighten the sensational pleasure of classic French pastry and chocolates. They were co-written by William Curley and his former wife, Suzue Aoyama Curley, a superbly talented pâtissier and chocolatier in her own right.
In 2004, the Curleys opened their first shop in Richmond, followed by others in Mayfair and at Harrods, London. They seemed unstoppable, winning Gold medal at the Culinary Olympics, the Academy of Chocolate annual Best British Chocolatier award four times and ten other awards, including for Japanese ingredients-flavoured chocolates. In 2010, their trainees garnered numerous awards at Salon Culinaire competition. They also found time to write cookbooks. Suzue recalls checking the text of their cookbook in hospital, having just given birth to her daughter in 2011.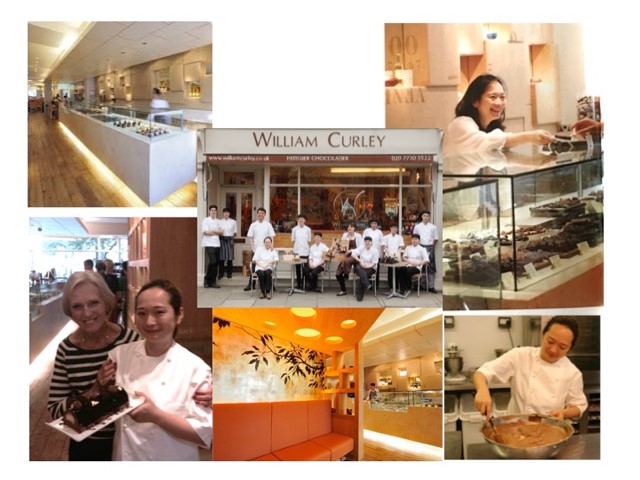 Originally from Japan, in 1995, she won a scholarship to the eminent culinary school, Le Cordon Bleu. She gained experience in Claridges Hotel under John Williams (now Executive Chef at The Ritz Hotel, London) and assisted the award-winning chef, Bruce Sangster, at Lehman Brothers. She then joined the revered chef, Anton Edelman, at The Savoy Hotel, where she was in charge of tea pastries. In Sangster's team, she competed at the Scottish Culinary Olympics team. In 2000, she became the first Japanese person to win Gold Award in afternoon pastries at International Salon Culinaire, London.
Many of their young chefs have blossomed. Sarah Frankland, the Head Pastry Chef at the five-star Pennyhill Park Hotel, worked at William Curley for 6 ½ years and became Head of Pastry. She was a finalist at 2019 Bake Off: The Professionals. Alistair Birt, who had worked for 6 years at William Curley, is Head Pastry Chef at Harrods.
"Cooking was always in the background." Aged three, Suzue helped to roll Japanese rice cakes at her parents' noodle restaurant. While at university, she fell in love with patisserie. The only way that she could study at Le Cordon Bleu was by getting a scholarship. With not much English and no French, she completed her training.
Sadly, the William Curley shops closed in 2016 following a split from their investor, Sir Evelyn de Rothschild[1]. Suzue runs her own workshop while being mother to the Curleys' nine-year old daughter.
LOCKDOWN DEMOS
During lockdown, the three ladies have been showcasing their cookery skills on Instagram. Some Rosa's Thai Café are open for take-aways. They have been cooking meals under the Feed NHS fundraising campaign championed by Damian Lewis et al and Leon Restaurants. Maureen shows ways to use her sauces online and Suzue offers virtual cookery lessons (www.suzueaoyama.com).
Three young women decided to leave their home country for an adventure, with no money and not speaking much English. They wanted a better future. Having children doesn't seem to have stopped these formidable women from reaching for the stars. If there's the will, there's a way. Maureen, in her sixties, hasn't quite finished. She aspires to be the Asian Mary Berry. Chef Heston Blumenthal, eat your heart out.
ABOUT TERRY
Terry Tong, a former lawyer, is founder of Yippie Limited. yippieonline.com has reviews on Pan Asian restaurants across London and blogs on chefs' and restauranteurs' journeys. See her latest blog on some of the best online groceries and on Instagram and Twitter @yippielovesfood.
---