"Is your newborn bringing you together or pushing you apart?" asks Emma Parr, a specialist in mothers and babies.
As a psychotherapist who is passionate about supporting mothers with a new-born or young child, I am noticing a trend in mothers having children later in life. Looking at the Office for National Statistics the average age of a mother in the UK in 2017 was 28.8 and the majority of clients I have worked with over the last few years are in their mid-30s. Age can bring stability in life, a career that has been worked hard for, habits and ways of living that matter and are enjoyed. Having a baby can throw this comfortable, predictable world upside down.
Family dynamics impact us throughout our lives. A time when we often become hyper aware of it is when our immediate family has a new addition. We find ourselves needing to learn how to parent as individuals and as a team. With our first child in particular, we are learning on the job, regardless of how many books, online sites and blogs we read, our family will be unique.
Within this growing family are two people with their own perspective on how to bring up their baby. The primary carer spends the majority of time at home and is therefore able to implement what feels right to them. The partner, who is not there day to day in the same way, can feel left out and is expected to slot back into family life with ease. He/she can be punished for being absent, despite often working to support the family during maternity/paternity leave. It is important to acknowledge both jobs are in their own way tough, neither better nor worse than the other, just different.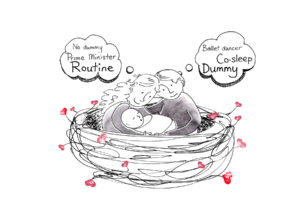 Having a baby can either bring us together or push us apart. Supporting each other through clear communication is key. Using 'I statements' can help with this. For many first-time mothers it is important they are seen and heard. Acknowledging them by saying, "I can see you have had a tough day, what do you need?" can reassure that the hard stuff is not being missed, and in turn neither are they. It is not about fixing but accepting where we are and listening to what the other needs.
Emma Parr has a private practice in Wimbledon and is an experienced therapist who works with individuals covering a range of issues, but specialises in mothers and babies. MA. MBACP, PG Dip Couns. DBS Certificate.
Illustration by Muriel Clarke
emmaparr.net | 07387 812586