Despite all the walking many of us are doing we've generally had a more sedentary existence this lockdown. We're all at our desks, on our sofas and in our fridges a bit more often than normal! Now is the time to act on losing your love handles, says Louise from Nakedhealth Medispa
Things are on the move, summer is around the corner; we will be seeing more of each other so will want to look our best. If you are exercising and eating sensibly but having trouble with the odd extra bulge and fancy losing your love handles, you might consider Coolsculpting as the perfect solution.
Body fat, whether tummy, thighs, hips, knees or chins, can be hard to lose despite dieting and exercising. Men and women who work out and eat sensibly can be frustrated by the fatty bits that just don't go.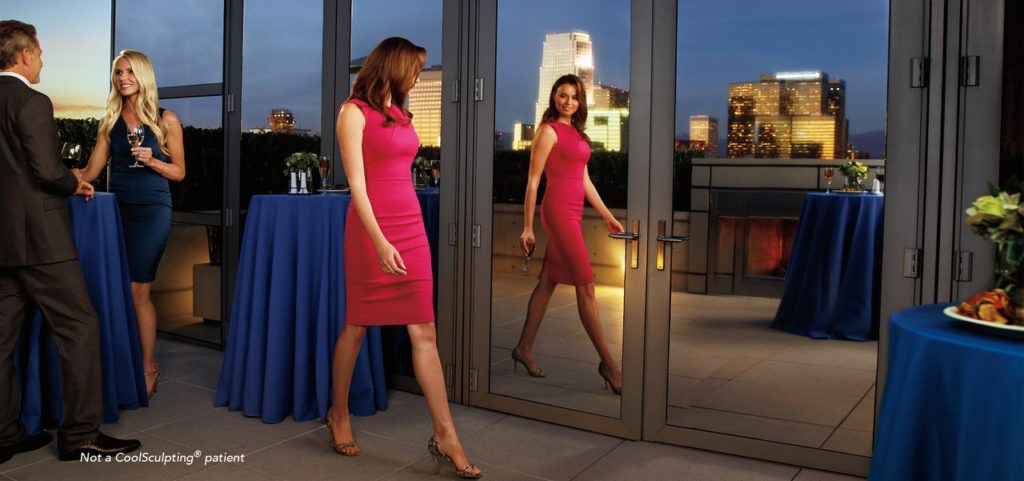 Why is Coolsculpting the most effective choice?
Many treatments claim to help and this can cause confusion. Louise Stewart and her colleague, Plastic Surgeon, David Gateley chose world #1 fat freezing system Coolsculpting, 5 years ago. The results are impressive with many clients choosing to sculpt multiple areas when they see how well it works. There is up to 27% reduction in the fat in the area treated. The treatment technique has been refined over the years and is FDA approved for efficacy. This means that it has been through rigorous tests to be sure that is works effectively.
There are different fat removal systems available. One of the most compelling reasons for fat freezing as opposed to heat or "melting" lipolysis is that the cold crystallises the fat cells and they are gradually and naturally removed from the body over a period of 3-16 weeks through the lymphatic system with no risk to the liver. The body contours look natural and there is no risk of lumpiness.
What is a Coolsculpting assessment?
When you attend your first assessment your body will be looked at as a whole and you will discuss your goals and expectations. It is not always advised to concentrate on just one area which could look disproportionate. The CoolSculpting team at Nakedhealth have been working together for many years and have a collaborative approach to getting the best possible results for their patients. They are very experienced at knowing what is possible and how to achieve the best results.
A diet appraisal also forms part of the assessment. Often patients are spurred on to make some changes which help the efficacy of the procedure. Some sign up to the Prolon Fasting Mimicking Diet before undergoing the treatment and this can enhance the results. This is a five day treatment pack with all essential nutrients, minerals and vitamins but very limited calories. The benefits last for a long time and help cellular recycling and rejuvenation. https://prolon.co.uk. A discount code is available if ordered through Nakedhealth.
There are numerous benefits of having CoolSculpting, not just the great results. The avoidance of invasive surgery, anaesthesia and downtime, the longevity of the effects and the skin firmness. Millions of treatments have been performed worldwide and it is proven to be safe and effective.
Is liposuction better than Coolsculpting?
At Nakedhealth, Plastic Surgeon, David Gateley, is on hand to review the patient and will give an honest opinion. Liposuction is sometimes more appropriate for bulky areas. https://drg-plasticsurgery.co.uk/procedures/liposuction. The team want the best outcome and everybody can be taken care of.
CoolSculpting will not help you lose weight. However, if you want to eliminate unwanted fat and look slimmer in your clothes, then CoolSculpting may be right for you.
Is Coolsculpting a good treatment for men?
Since introducing the treatment the team have treated many men who are particularly concerned with excess weight around their middles despite dedicated exercise regimes. It is particularly appealing as there is no down time and normal activities can be resumed the next day.
Is Nakedhealth Covid Safe?
Coolsculpting is a medical procedure and the team of Therapists have worked with David Gateley for years to ensure optimum results through ongoing training and case reviews. The Clinic is CQC Registered and has rigorous Covid safety measures in place for your peace of mind.
Can I get Interest free instalments on my Coolsculpting treatment?
You will be told about the interest free payment options and the cost details when you come for your assessment.
When can I have a Coolsculpting treatment?
You can have the treatment any day of the week or in the evening.
The results are not instant. It can take 3-6 months to see the final result so it's sensible to get booked in as soon as possible for an assessment to find out whether the treatment will work for you. https://www.nakedhealth.co.uk/coolsculpting/
Nakedhealth MEDISPA
020 8944 5454
261-263 Coombe Lane, Wimbledon, SW20 0RH
You may also like to read: https://darlingmagazine.co.uk/hair-beauty/skin-body-treatments/medispa-wimbledon/