Where are you on your path? Nicola is a holistic healer who can help you find your path. She's not called a 'Pathfinder' for nothing.
Is there more to life? Feeling stuck, anxious or depressed? Bad back or other aches and pains? Struggling with relationships or family? Feeling unsupported, unappreciated, struggling to move on?
My own healing journey has taught me so much. I love what I do because when you plant the seeds of change there is nothing more rewarding than watching them grow. Be magical, Believe in YOU!
These testimonials provide a glimpse of what IKIGAI counselling can achieve. IKIGAI is a Japanese philosophy, or a way of life, I practice and teach to others. It is my clients and what they bring to each session that have become my greatest teachers.
"Nicola Manages to relax and unwind you from the very beginning. She is intuitive and just seems to know you! I look forward to each session and its changed the way I look at life. I had a trapped nerve in my back and by working with Nicola I am almost 100% better. I cannot recommend her more highly. – Peter Simes"
"This is my first experience with IKIGAI, and wow! 5 days later and half way through my first full week back at work, and I'm feeling calm, energised and happy! I feel lighter, and things that would normally bother me aren't. I can't thank Nicola enough, and it will definitely not be my first and last treatment. I wholeheartedly recommend to anyone who just feels a bit lost, without knowing why. – Martine Allen"
" I recently had a healing session with Ikigai. I have been in a rather dark place for some time now and was in need of guidance and a way forward. I have nothing but praise for Nicola. She is a lovely person. Both calm, kind and insightful. Having been through the initial process I can confirm that the experience was enlightening and very beneficial. I now have the tools to allow me to move forward with additional work for myself, whereas before I could not envisage a way forward without fear and anxiety. I very much look forward to who I will become and cannot recommend Ikigai Therapy more strongly to anyone in need of help. – Tom Parsons
This is a small part of my own journey
During my thirties, I had an overwhelming feeling of emptiness and sadness. Everything appeared lifeless, even the leaves on the trees seemed less green. Then in 2012 Divine intervention forced me to reopen a door I had shut long ago. I was compelled to find answers. Why was I feeling and seeing and knowing things I apparently shouldn't , Who? What? Why? was the Universe? God ? and pretty much every thing. There had to be more to this life! Since then my, outlook, relationships and health took on a whole new dimension and a sense of revival.​ I literally became a different person or perhaps I just embraced who I really was all along.
From city girl to a holistic healer
Then to my horror, six years later I was diagnosed with Rheumatoid Arthritis. The prospect of being on medication for the rest of my life to try and suppress the speed of this crippling diseases advancement and the disabling effect it would have on me was to say the very least infuriating after all the work I had done to change myself from a city girl with all the trappings of cigarettes, long hours, too much alcohol and a carnivores appetite to the holistic healer I had embraced. So I decided to practise what I preached, so to speak, and my journey took on a whole new dimension.
I was to discover I was filled with suppressed anger reaching far back into my childhood, and I had not only been hiding that anger from myself and others, I had been attracting situations that triggered that anger within me over and over again in different formats. I spent the next 6 months integrating everything I had learnt and reaching out to fellow holistic therapists, pushing my belief systems to the very limits to try to release myself from the disease within me.
How did Nicola heal herself?
At what would be my final doctor's appointment at the hospital to discuss the medication they felt I would need. I sat there for about forty minutes undergoing various tests and then the doctor looking puzzled suddenly announced that I no longer had Rheumatoid Arthritis. So did they make a mistake? Or did I heal myself during that six month lead up to the appointment with everything I had learnt. I had been studying and learning from Brandon Bays, Joe Dispenza and the likes and also meditated, used Bach flower remedies, natural oils, MBIT, and self healing work.
Had I undertaken all that work in earnest to release the anger in my body? Who knows. But I am extremely grateful that I now bounce out of bed in the mornings rather than hobble around for half an hour to warm up my joints. I am able to sit in the cinema and watch a movie without having to keep shifting my body or be in pain. But more importantly, I no longer have the anger inside me that was once there. The triggers that alerted me to this anger are merely a reminder of what no longer serves me. So which ever way you look at it, I am very grateful that I had the diagnosis of this serious condition, allowing me to experience the Journey of physical healing first hand.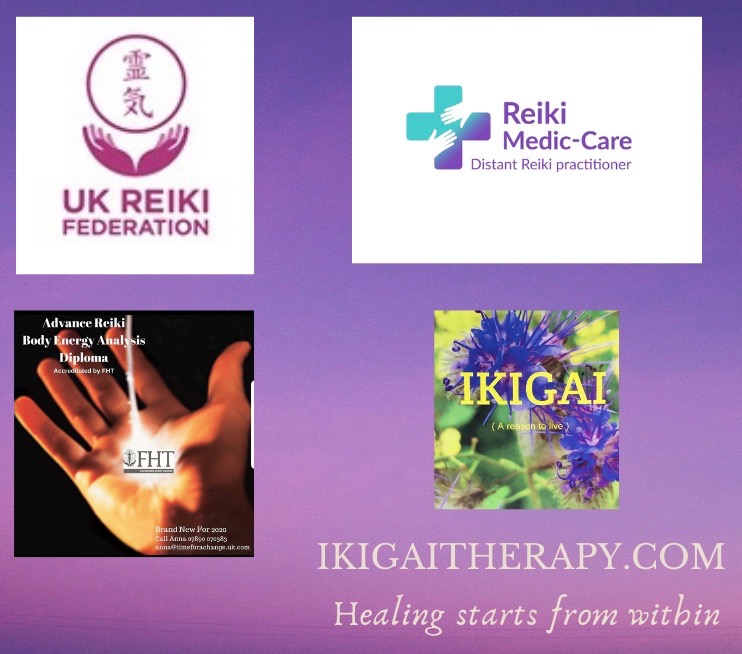 If you feel drawn to IKIGAI Therapy you will be searching for an avenue to shift onto a new path promoting self belief, helping you to incorporate a journey of releasing physical, emotional or mental disease within yourself and in time learning to visualise the possibility of wellness and positivity into your life and ultimately create it into BEING.
I am not a psychiatrist or psychotherapist or doctor. I am just me trying to help you find YOU.
Initial one and half hour session is £65 any subsequent pre booked appointments are £50
:https://www.ikigaitherapy.com
: https://www.instagram.com/nicola5874/
: https://m.facebook.com/Ikigaireikitherapy/
: https://twitter.com/IKIGAITHERAPIST
You may also enjoy reading https://darlingmagazine.co.uk/wellness/womens-wisdom/womens-wisdom/