Scientific advancements in the beauty industry today give us all opportunities to make the most of ourselves and our skincare. Here are some cutting-edge anti-ageing treatments available at The Glasshouse Clinics in Wimbledon Village and Clapham to get excited about.
Throughout your 40s, small but consistent tweakments in set you up for much more natural looking skin, reducing the need for 'obvious' anti-ageing treatments in later years and keep you looking youthful pausing the signs of ageing without changing the way you look. You can achieve this through:
Profhilo
Perfect for every age, Profhilo injectable skin boosters currently have the highest concentration of hyaluronic acid, absent of additives. This treatment encourages production of collagen and elastin across the skin, and spreads out under the skin like honey to improve skin tone, texture and signs of ageing in the face, neck, décolletage, and hands.
Anti-wrinkle injectables
Smooth out the skin while maintaining natural expression. As we get older, wrinkles start to form and fine lines appear as the skin loses its elasticity and sun damage begins to take effect. Anti-wrinkle injections help to relax the muscle, preventing the skin from creasing and wrinkles appearing.
At The Glasshouse Clinic we encourage a 'less is more' approach to keep you looking fresh-faced while ensuring natural expression. Expression lines on the frown, forehead, crows' feet, around the mouth, and lines on the throat can all be reduced with these effective anti-ageing treatments.
Microneedling
Also known as dermapen or dermaroller, medical needling works by creating tiny little pin pricks in the surface of the skin, enhancing the delivery of your skincare products deep into the layers of the skin where they work best.
Microneedling works by stimulating a healing response, kickstarting your natural growth factor which, in turn, encourages collagen production and improves skin elasticity and tone. This natural healing helps to correct minor skin discolorations, improve crêpey, thin-looking skin and restores a youthful bounce.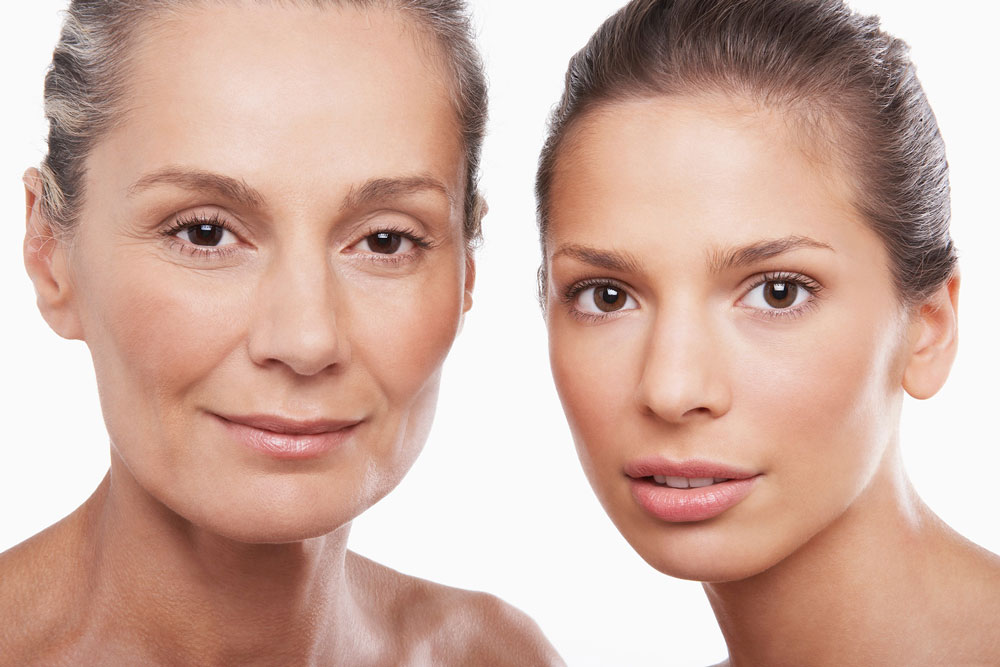 Radio frequency
The gold standard in skin tightening treatments that leave your skin looking tighter, and firmer after just one session, with no downtime.
Using harmless radio waves to deliver heat deep into the lower layers of the skin to contract the collagen cells gives an immediate tightening effect, which improves sagging skin and firms. Long term results are best experienced with a course of treatments ensuring an improved collagen and elastin production that would otherwise deplete with age.
As anti-ageing treatments go, tweakments in your 50s aim to restore a youthful appearance while maintaining a natural you. These can include:
Dermal Fillers
Unlike traditional, poorly placed facial fillers which have previously left well-known celebrities looking puffy and pillow-faced, The Glasshouse Clinic delivers expertly placed treatments using the highest-grade products to smooth out lines and wrinkles, replace lost volume, and restore elasticity and tone to create a natural look and natural feel.
Hyaluronic acid semi-permanent fillers can help soften lines around the eyes, lift and improve the brow, soften tear troughs in the under-eye area and add lost volume to the temple. Fullness can be restored in the cheek area to lift and define creating a more youthful appearance, and smile lines can be softened alongside lip to chin lines commonly known as marionette lines. Volume and definition can be returned to the lips, and the chin and jawline can be contoured, reducing a jowly appearance. Essentially, dermal fillers give you the chance to revitalise and refresh your face.
Laser therapies
As we age, the skin naturally thins and complexion imperfections like sunspots, leg veins, and redness become more apparent.
Lasers can be used to combat these tell-tale signs of ageing, by targeting your specific concern our therapist can reduce sunspots on the face, décolletage and hands. Leg veins can be eradicated while facial redness and broken veins can be removed using tailored treatment settings. Intense skin laser facials can be used to thicken the dermis and bring back youthful skin textures, too.
Radiesse and Coolsculpting combined
Remove, reduce and the tighten saggy crêpey skin in the upper arm that mimics bat wings. The first treatment of its kind, pioneered by The Glasshouse Clinic Founder Alison Telfer and her Coolsculpting Experts, begins with Coolsculpting, which helps to reduce the pocket of fat in the upper arms that appears as we age. The second stage then involves a Radiesse treatment, which works to tighten the skin by adding lost volume and stimulating collagen production in a process known as neocollagenesis.
Find out more and book an appointment on theglasshouseclinic.co.uk.
You might also enjoy reading: