We had the pleasure to meet Israel Cassol, also known as The Birkin Boy, whilst he was modelling for Richmond Fashion Festival. The shoot wasn't quite what he was used to when he was modelling for big name designers in Milan. This time he was very happy to be wearing pre-loved fashion from Mary's Living & Giving charity shop in support for our high street retailers and chats to Darling Editor, Marja-Leena Toseland
Life of Luxury
Your life seems full of luxuries – lavish trips, impressive cars, not to mention your impressive £101,000 Hermes bag collection which is the biggest by a male collector. Has the pandemic impacted your lifestyle?
" I think so. I believe that the pandemic has changed the way we all see the world now. There are so many things we just can't do any longer, like book a holiday at a moment's thought and just go. Covid-19 will never be forgotten!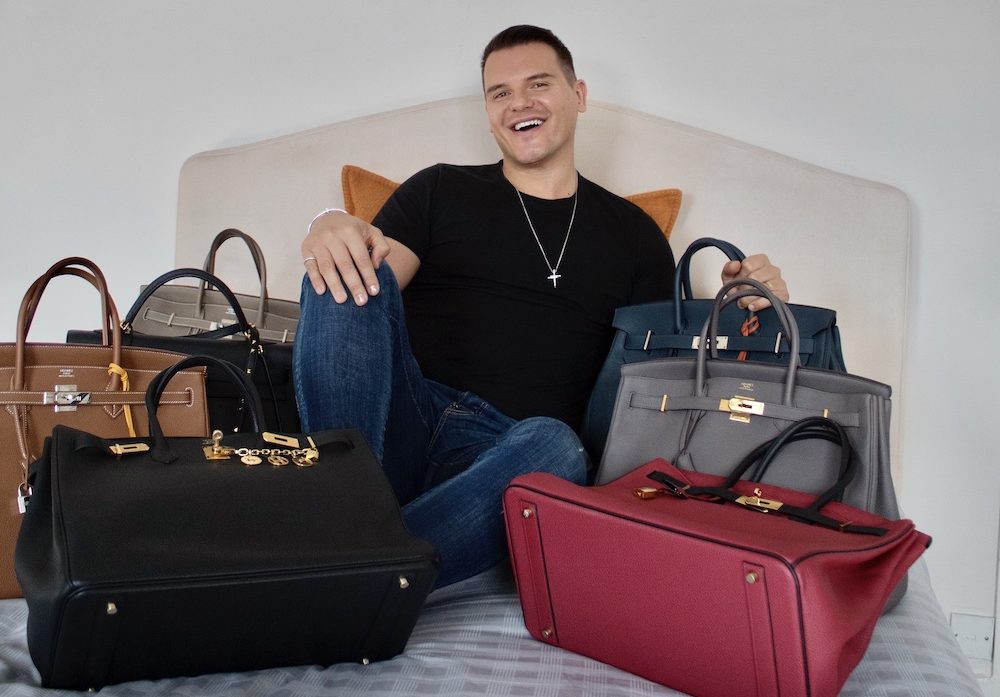 You have over 183k followers on Instagram alone and you are using your platform to promote eco-causes, sustainable fashion, encouraging readers to indulge in charity shopping and go plastic-free. What would you like to achieve as an influencer?
"I would like to show my followers that I am not only an influencer who likes to promote a lavish lifestyle and boast about expensive bags and luxuries. I want to use my social media influence to draw attention to the problems our planet is facing, such as plastic pollution, climate change and also educate people that buying fast fashion is disastrous for the planet. As we know, the fashion industry is one of the biggest polluters in the world and we are all partly guilty.
Nature Calls
Israel is currently in Brazil, keeping his home fans happy. He's also visiting the Amazon rain forest and has this to say about his trip.
"My trip to the Amazon is a dream come through for me. I remember my teachers telling us about the forest and Amazon has always been on my wish list of places to visit.
I want to feel the nature, feel the pure air and feel the energy that the Amazon forest has. I also want to meet the indegenous people, see the pink dolphins and sleep in the middle of the forest. I believe that I will be connected with God.
I want to do my part and draw attention to the world that we are destroying, which is our natural world. We must all act now to stop the destruction. So whilst the Amazon can still bee experienced in all its glory and power, I want to visit!
What's the most enjoyable aspect of being an influencer? Do you miss your modelling days?
"To be perfectly honest with you, I love going to events, love being invited to fashion shows and love meeting fantastic people and influencers. Love to receive the gifts from the brands as well. Who doesn't like gifts?
I was working as a model for many years before I decided to stop modelling to start my own modelling agency. I don't miss the modelling and I don't miss my modelling agency at all. It was a really hectic life. It was really hard for me in the beginning as a 'new face' in the industry. I have met great people since then, and I am really grateful for that. I wouldn't be where I am today without those people.
Do you feel you've changed since the days you made Daily Mail front pages as 'Birkin Boy'? If so, what influenced this change?
"I have certainty changed. First of all, the pandemic has showed me that we can live with very little! I was a real consumerist, oh my god! Now, I see the world differently, I have decided that I won't buy any bags this year and I will spend my money consciously. The world has changed and so has the "Birkin Boy". I am pleased that my eyes have opened up for the issues which our planet is facing. Above all I want to use my influence to help where I can.
You campaign for the normalisation of 'fashion beyond traditional gender norms'. Why is this important to you?
"I would love to live in a better world where everyone, men and women, can wear whatever they feel good in, without prejudice. I believe that thiking beyond gender forms is the new fashion trend of the 21 century.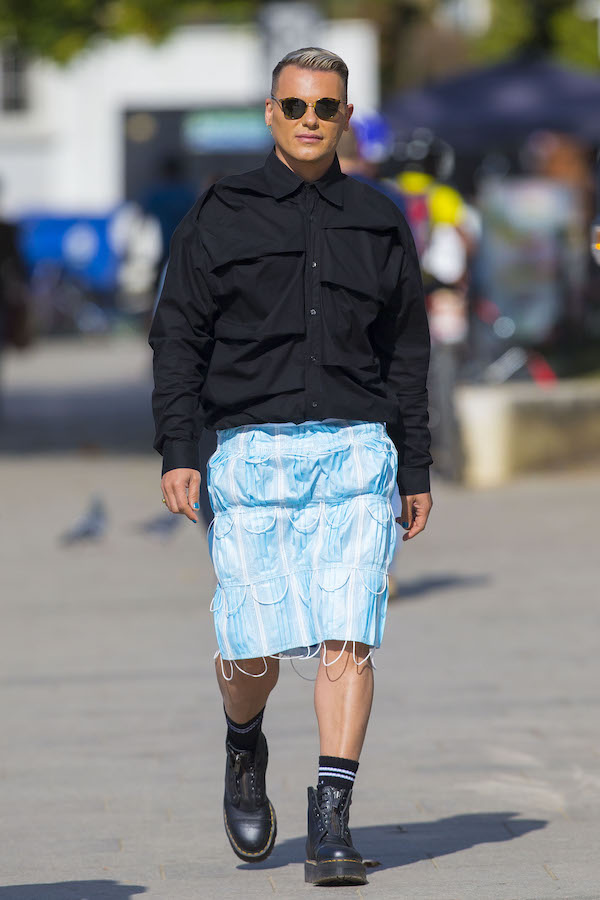 The skirt you made from single-use face masks featured in Vogue Brazil. Could you tell us more about this project? What did you aim to achieve?
"I've decided to make the skirt with the masks because I saw lots of discarded mask on the ground. One morning I was running in Battersea Park when I realised how many masks were floating in the river. I was shocked at what I saw. Because of that I decided to develop the skirt with the help of two Brazilian seamstresses in order to call attention to the pollution problem during London Fashion Week. I was really happy when I saw it featured in Vogue Brazil and Getty Images. People must think of the mask as the new fashion accessory. Moreover we must wear them to protect ourselves and others. I wanted to remind people of the importance of disposing them in the right place, which is the bin, not our streets and rivers.
From Chelsea to Richmond
"Before I moved to Richmond, I lived in Chelsea for many years. However, I was really upset about what was happening in Chelsea increasingly. Crime was up, robberies and smashed car windows were reported daily. As i result my husband and I decided to move out to Richmond in August this year. I am in love with the area and the streets. I love walking around, exploring this picturesque area. People here have a great taste of fashion too. I am walking around with my skirts and bags and I don't feel any prejudice wearing them around the area. Richmond has a new lover!
You can follow Israel at https://www.instagram.com/israel.cassol
You may also enjoy reading https://darlingmagazine.co.uk/women-to-watch/karen-hauer-strictly-interview/