Shaun Bailey doesn't look like a typical Tory in high office and that works well with his campaign pledge of showing that Conservatism is for all working people, regardless of their race or background.
Shaun empathises with the plight of the low paid workers, surviving on minimum wage in our expensive city. He knows what it's like to live in poverty, witnessing crime and addiction on a daily basis. Raised by a hard working single mother in a council house in the poorer part of Ladbroke Grove, Shaun believed in himself and had faith in making more of his life. Higher education was the way out to fulfil his potential. He went to university, despite the additional challenges of dyslexia that had affected his schooling. Soon after graduating, he was able to put his first-hand experience of growing up in inner London to great use, serving for three years as a special adviser on youth and crime under David Cameron. Shaun is currently a member of the London Assembly.
Shaun is not the only black or mixed race contestant in the next Mayoral elections. Women's Equality Party candidate Mandu Reid, as well as independent hopefuls Nims Obunge, Winston McKenzie of Unity In Action, David Kurten and drill rapper Drillmaster are also in the run, as is Sadiq Khan our present Mayor, of course. So Londoners are given a wide choice of a leader from an ethnic minority to balance and challenge the white Westminster elite.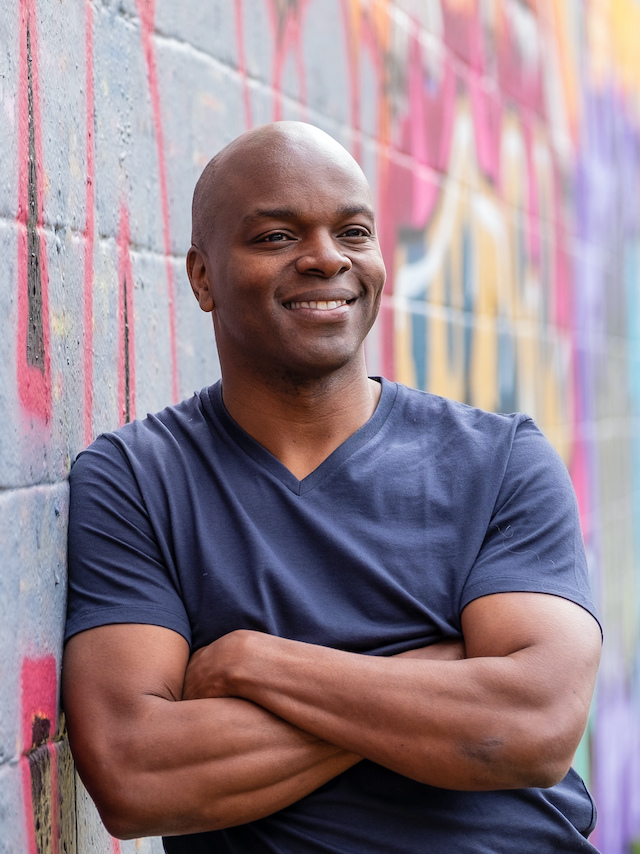 Q – You say that you want to fight to improve the lives of ordinary working Londoners and make London a safe place to live, cutting knife crime especially, and also an affordable city for all. That sounds more like Labour Party's promise. How do your policies differ from what Sadiq Khan is striving to achieve and what makes you a Tory?
"Cutting crime isn't a Labour or a Tory issue. It's a London issue. Lowering the cost of living isn't a party political issue. It's a London issue.
So I believe that Londoners will vote for the person who can deliver what they promise.
And with knife crime at historic highs, with the cost of living rising every day, Sadiq Khan has shown that he can't deliver his promises.
I'm a Conservative because I believe that every single person has potential – and I believe it's the job of elected officials to help bring out that potential.
I was a youth worker for over twenty years, helping to get young people out of crime and into work. Trust me, that's a Conservative job.
Those kids believed in the same things I believe in: the dignity of work, the importance of safe streets and safe communities, the need for a hand up, not a hand out.
But they had been let down by politicians who failed to get a grip on crime, failed to lower the cost of living and failed to deliver what they promised.
That's why I'm standing for Mayor of London. So I can work with every resident in every community to build a safer, fairer and more affordable city.
Q – How important would diversity, including women's equality, be to you if you were in charge of London as a Mayor?
"One of London's greatest strengths is our diversity – the people of all nationalities and backgrounds who call this city home.
I'm proud that we attract the world's best and brightest, people who want to build a better life for their families.
So I understand how important diversity is. And I also understand how important women's equality is.
I was raised in a council house by a single mum and my aunties. I wouldn't be anywhere in life without the influence of this community of strong women.
But life is getting tougher for women in London. We've seen a huge increase in cases of violence against women across the city. Since 2016, rape has increased by 36.6%. Violent and sexual offences at tube stations and on trains have nearly doubled.
We can't build a more equal London when half of our residents are facing increased violence.
That's why making London safe is my top priority. To aid this I will allocate a further 500 police officers to the safeguarding units specifically to deal with violence against women and girls in the capital.
Q – You want to cut the congestion charge and allow a lot more cars back to central London streets, including older more polluting vehicles. Isn't that backwards thinking today when we are all aware of the climate crisis we are facing? What are your key environmental policies?
"The congestion charge exists to cut congestion at peak hours. And the fact is there are much better ways to cut pollution than taxing businesses and struggling families.
Ask any small business in central London and they'll tell you that the congestion charge is harming any chance of an economic recovery.
That's why I'll reverse the congestion charge increase on day one.
There's no silver bullet when it comes to tackling pollution. But closing off London's vital arteries across the Thames and implementing low traffic neighbourhoods without proper planning and consultation are clearly mistakes.
Instead, I'll introduce a fully electric fleet of London buses. A small step with a big impact – and all without taxing Londoners and small businesses.
I'll also provide an interest-free loan to every single black cab driver so they can buy electric black cabs. That policy alone is the equivalent of taking one million cars off our roads.
These are sensible, moderate policies that will cut pollution, clean up our air and help keep London moving.
Q – Are your sights set to follow in Boris Johnson's footsteps from Mayor of London to Prime Minister?
"Boris Johnson was a great Mayor of London. But I'm my own man. My sights are firmly set on delivering for Londoners.
During my time in City Hall, I've seen how politicians like Khan have failed Londoners.
Knife crime has hit historic highs. Good homes are unaffordable. Transport is overcrowded. The cost of living keeps rising. And now we're facing a pandemic with a Mayor who's shown no leadership.
We need a safer, fairer and more affordable city. That's my focus. And that will be a fulltime job!
You can follow Shaun on Instagram: https://www.instagram.com/shaunbaileyam/?hl=en
Twitter: https://twitter.com/ShaunBaileyUK
You may also enjoy reading https://darlingmagazine.co.uk/women-to-watch/british-women-of-colour/