How a childhood passion grew into West London's most iconic classic car destination
As part of our young entrepreneur series, we sent Jas Matulewicz to meet Merlin McCormack, the man behind Duke of London.
The Brentford Project is, in the words of its developers, a 'new riverside town in the heart of West London'. It also happens to be home to Duke of London, a unique, classic car dealership founded by Merlin McCormack. Darling speaks to the man himself on the importance of spontaneity in business, working alongside family, and the challenges of setting up a company at 19 years old.
Picture this: a once-roughed-up factory building transformed into a modern-industrial melting pot of creativity. The canal flows merrily below, and the smell of fresh coffee and lacquer and welded metal tickles your nose as you walk between rows and rows of weird and wonderful cars. The dream, for a classic car connoisseur. An exciting adventure for a less clued-up local. A car dealership with a twist.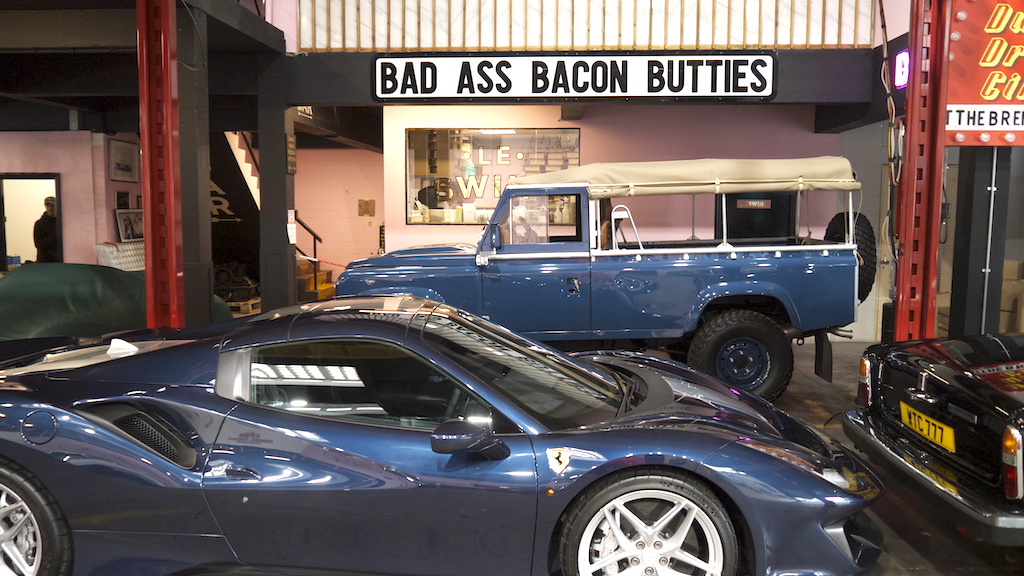 Developing a development
Merlin McCormack was immersed in the world of classic cars since he was old enough to hold a hammer. At 19, he put a sign on the door and formalised the work he had essentially been doing since his school days. The transition from helping his dad with odd jobs to working alongside him and his brother Algy felt organic, natural. Healthy dynamics and a healthy social life away from work. Merlin's father, Lance McCormack, has been running the legendary Romance of Rust garage for over three decades, restoring cars and bringing magic into metalwork. The boys' mother had always had an interest in the industry, too, and so a passion that runs in his veins snowballed into a business.
And the showroom is impressive – the vintage road signs and posters on the walls, the old Vespa helmets placed strategically in a row so as to complement the paintwork, the cars that appear to have been fished straight out of a glam 70s movie. A Harley shines next to the leather sofa as Merlin shares his story. Reggie the Frenchie moderates, ears perked up in full attention.
Now 26, Merlin had never sat down at a board meeting, never held a call with a strategist or brainstormed ways to make his business stand out. 'The whole thing was made up as we went along,' he says. Drive-in cinema events, car meets, and charity partnerships have brought people together. The premises are currently home to 30 small businesses, an eclectic mix ranging from skateboard manufacturers and YouTubers to the recently-opened, award-winning Santa Maria Pizza and live music at Brewery Tap. It's a real community, and Merlin couldn't be more thankful for it.
You've got to experience it
Aside from its undeniably amiable character, tens of thousands of fans on social media can confirm that the Duke of London experience is truly something else. 'A lot of our male clients bring along their wives and girlfriends who would usually dread visiting a car showroom or a car event, but many come here and really enjoy themselves – the feedback has been great! They actually have a nice time. For me, that's such a brilliant, brilliant thing. If we can cater for everybody – or the majority of people, at least – then we're not ostracising ourselves to a niche car community. We've broadened our horizons, drawn in the locals and shown them that, you know, we're not this elite boys' club – we're just an open door for people to come by and have a look around,' Merlin says.
Going in alone
No two days are the same at Duke of London. On this particular Wednesday, Merlin had been overlooking the work of one of his car painters (he loves the nitty gritty, the jobs whose process he can follow start to finish), he bought a Rolls Royce that's due an inspection, and he has a meeting lined up 'with another chap who wants to consign his car collection with us to sell for him'. The background clutter doesn't stop – someone down the hall drills into metal, someone downstairs is on a phone call with a client while someone else prepares for the opening of the pizzeria. Someone cracks a joke and a group bursts into laughter.
But it wasn't always like this. When Merlin established Duke of London back in 2014, he didn't have the talented team he does now. 'One of the biggest things I learned too late on was the art of delegation and having a workforce alongside me. I was doing everything myself up until a year ago. It was driving me crazy. Things were slipping. Now I've got an amazing team of guys who really help me keep this afloat,' he says. He'd learned the hard way not to become complacent with his achievements. Reggie seems to approve of this character development.
Making a mark in West London
Growing up, the Brentford docks were Merlin's stomping ground. It might not be surprising, then, that the abandoned warehouses he'd ride his bike around as a boy are now home to West London's one-of-a-kind classic car hub. The choice of location was completely circumstantial, he says, but he can't imagine being based elsewhere: 'it feels like home'.
The gentrification of Brentford has had a drastic impact on the area, and seeing these changes real time must have been quite the experience. But for Duke of London, the results aren't worth complaining about. 'People are exploring and satisfying their curiosity by discovering this, like, weird and wonderful melting pot of businesses that they wouldn't necessarily know are here,' Merlin says.
Electric cars have their place here too
So, what does the future hold in store for Merlin and his royal car dealership? 'I'd like to still be doing what we're doing, but fine-tuning it,' he says. He loves what he does, and corporate social responsibility hasn't escaped him, either – Duke of London has done some work with Lunaz to 'future-proof' classic cars by converting them into electrics. 'The amount of pollution and exhaust that comes out of classic cars is incomparable to the manufacturing of these disposable cars that we've all become familiar with,' Merlin explains. By sourcing donor cars for Lunaz to work with, he's making space for environmentally-friendly cars in his industry. He's already made an impact. We'd better keep him on our radar.

Duke Of London: Classic and Supercar Hub
You may also enjoy reading https://darlingmagazine.co.uk/headline/romance-of-rust-love-affair-with-classic-cars/