The #StyledWithThanks Campaign
It's a very different Royal Ascot this year but you can still have fun in true racing spirit by dressing up, with a hat, and take part in Royal Ascot At Home.
You can wear any style race hat – a ladies' hat, top hat, panama, trilby or other racing hat, simply take and share a photo on social media using the campaign hashtags #StyledWithThanks and #RoyalAscot. Every photo shared is in with the chance of winning some amazing prizes, while helping those affected by COVID-19. And if you can donate £5 please do and tell your friends to do the same and spread the #StyledWithThanks message in recognition of those working on the frontline of the global COVID-19 crisis.

Ascot has kicked of the appeal by donating a whopping £100,000. All money raised will be split between four frontline charities: The National Emergencies Trust Relief Fund, NHS Charities Together, The Care Workers Charity and the Berkshire Community Foundation Coronavirus Fund.
Find out more about the charities here.
Photos posted using the campaign hashtags will be turned into a giant rainbow mosaic image tribute which will become a permanent installation at Ascot Racecourse.
Access the Royal Ascot Rainbow Flower Wall Instagram Filter from the @ascotracecourse Instagram profile in the Instagram mobile app. The Rainbow Flower Wall will be under Face Filters, the third icon along the top navigation bar. Tap the filter and 'Try it'.
You can also add a selection of official Royal Ascot GIPHY Stickers including #StyledWithThanks Millinery, by searching 'Royal Ascot' in the GIF search in Instagram Stories.
https://www.ascot.co.uk/styledwiththanks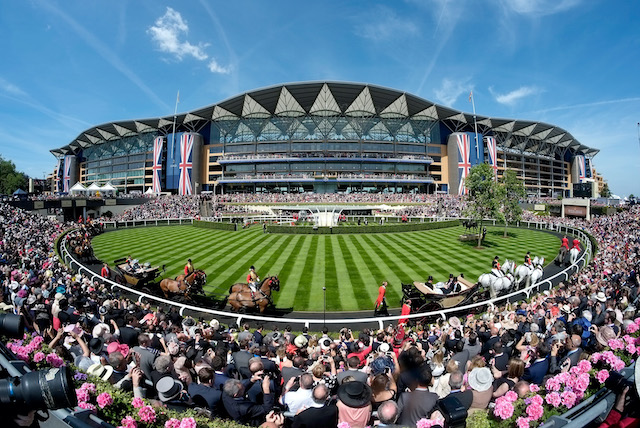 Juliet Slot spoke to Holly Candlish in spring 2019 about the history of Royal Ascot, dressing to impress and how to curtsy when you meet HRH The Queen
Royal Ascot is one of the world's most renowned race meetings, known as much for its extravagant hats, glamour and tradition as it is for horse racing. For many, it is the centrepiece of 'the season' offering an opportunity to dress up, meet with friends, see and be seen. Royal Ascot is Britain's most valuable race meeting, attracting many of the world's finest racehorses to compete for millions of pounds in prize money (£7.3m in 2018). Over the course of the five-day event the racecourse welcomes more than 300,000 visitors and at the heart of the Ascot buzz is Chief Commercial Officer, Juliet Slot. Juliet has an impressive career in sports marketing with senior roles at Fulham Football Club, Haymarket Press and worked on the successful Olympic bid team for London 2012, which she describes as a career highlight. She lives in Barnes with her rugby correspondent husband, Owen Slot, and their three children.
Juliet, you have one of the most important jobs at one of the most important events in the social calendar. What are you responsible for at Ascot?
Ultimately, I ensure that we deliver the brand experience across the venue. That means I'm in charge of all the media rights, tickets, hospitality, sponsorship, retailing and licensing at Ascot – marketing and consumer communications also comes under my umbrella.
Royal Ascot is a hugely prestigious event. What is the history of the royal association?
The Royal meeting was established in 1711 by Queen Anne and since that day racing has been held at Ascot. A trust was established by an Act of Parliament in 1913 and Ascot is now overseen on behalf of the Crown by Her Majesty's Representative, Johnny Weatherby, appointed by the Queen and supported by two other Trustees who report to her. We take our responsibility to the monarch and the direction in our constitution to deliver 'racing for the people' very seriously.
Her Majesty the Queen, along with members of the Royal family have attended Ascot every year since she acceded to the throne. Each year, as a Director, you have the honour to be presented in an official line up: how does that make you feel?
At two o'clock on the first day of the Royal Meeting, the Golden Gates open and the Royal Procession starts. As I watch Her Majesty the Queen and the four Landau carriages glide up the racecourse, with the throngs of racegoers cheering by the side of the course, the hairs on my neck always tingle. It's at that moment I am proudest. The Queen loves this meeting and we want to make it the best it can be for her. The first year, I had no idea I would be presented and that I would have to learn to curtsy; which is more than a simple bob. The CEO, who was male, ended up having to show me how it was done and I'm aware of his eyes, along with my Mum, watching me every year. (The trick is to put your leg back further and go deeper than you think.)
Ascot gets bigger and better every year. What can we expect in 2019?
I want you to walk away thinking Ascot was better than ever, but you won't necessarily be able to put your finger on it: it may be that we have improved the walkways, put different types of planting, different decorations or added more furniture. New for 2019, we have bought in celebrity chefs Raymond Blanc, Phil Howard and Ollie Debbous to our restaurants and introduced afternoon tea by Eric Lanier. The Village Enclosure is doubling in size and is Ascot's take on a festival with lots of music.
Sports marketing is traditionally male-dominated. What advice would you give to women in the work place?
You can't have it all. In my experience, you have to be prepared to make compromises. Bringing up children, you may have to pull back on your work or have proper childcare. Don't feel you have to apologise for either route. Women's rights are very strongly protected in the workplace therefore my advice is to stay working and get support and help. Don't allow the fact that you have children stop you from promoting yourself.
For race-goers and television audiences, fashion is very much a part of the Ascot experience. You attend each day of Royal Ascot in something amazing; what's your secret?
Becky Patsianas, in personal shopping at Bentalls, is my go-to person. I need five entirely different outfits and she keeps a record of everything I wear and ensures I reuse pieces from years before. Of course, I go to Becky saying I'll only buy one new outfit and I come out with two or three – it's definitely a perk of the job. The ladies who work at Ascot borrow and share hats, but we also need bags, shoes, tights and jewellery. I generally wear nude shoes, like the Duchess of Cambridge, but not as high as hers. Finally, I send photos of the outfits to a good friend, Claudia Bradby, and she lends me jewellery – and then I feel dressed.
Any racing tips?
I wouldn't bet against Stradivarius in the Gold Cup.
You may also enjoy reading https://darlingmagazine.co.uk/our-stories/a-hat-for-hope-raising-funds-for-the-nhs-charities/