Making a positive impression on Zoom is a given these days as pretty much all our meetings have move online. Kingston-Upon-Thames-based photographer Annie Armitage shares her best tips on how to present yourself in the best possible way on video calls.
As we've gone past the two months in lockdown with no sight to a definite end yet, although measures to gradual return to normality have started and we are looking forward to non-essential shops and restaurants welcoming customers, albeit in very measured way of course. But something is certain; Zoom, Skype, Facetime, Houseparty, WhatsApp video have become very much part of our lives. We use them for team meetings, networking, excercise and other classes and also for catching up with friends and family.
Before the lockdown I didn't use Facetime and Skype much as I prefer to pick up the phone to call people rather than to see them via video calling. That's changed now for me too and in order to continue with my business networking I have had to make use of video conferencing technology, Zoom being the most favoured tool.
I have continued networking with two groups in particular, Sister Snog and Athena Wimbledon, and we too use Zoom. We know each other very well and have embraced technology together. It has been wonderful seeing everyone regularly, some of us have played with the different backgrounds on Zoom (the tropical palm trees talk volumes) but at one point I will meet people I don't know yet and first impressions are going to be just as important as they would be if I was to meeting them face to face.
I came across a meme on Facebook recently which I found really funny as it was spot on. It was posted by Sarah Woodard, the Director of development for Spectrum Youth and Family Services in Burlington, USA.
The diagram is about all the different ways we get distracted on calls and reminded me also of distractions when we view images. Our eyes darts around an image instead of the focusing on the main subject. As a photographer who works mainly with people; I do both headshots and family photography My job is to look at the back of the camera while on a shoot, making sure that I deal with unwanted distractions. I can take some distractions out of the frame or move the client into a different position on the shoot and other distractions can be taken out in post production. This can't be done on video conferencing apps unless I have prepared in advance of a call.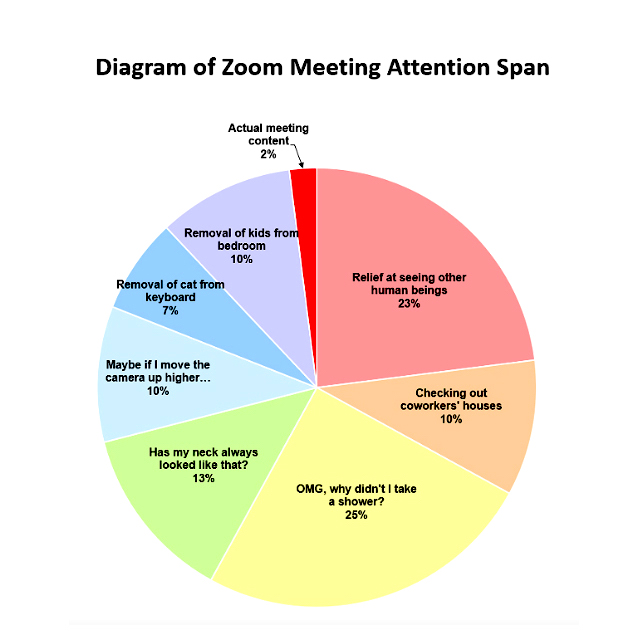 The science behind forming a first impression
The theories of how long we take before forming a first impression vary a little, some say it takes 30 seconds, others believe it takes just 2-3 seconds. A study done by Princeton psychologists found that it takes only a tenth of a second to form an impression of somebody.
Whatever study or figure you choose to follow, they all agree that first impressions are fast. To give you a benchmark to go by, the decisions or judgements the other person is going to make about you will happen on average in just 7 seconds. You might not even have the time to speak before this happens!
This is why I wanted to write this article. It looks like video conferencing is here to stay. As a photographer I see my Zoom box as a moving headshot. You LinkedIn profile, website and Twitter etc have an image to represent you and your company – your brand. You should put the same care and attention to your Zoom/Facetime image as you have done for your online visual presence in the past.
I'd like to share my top tips here with you. They cover your presentation and also your background, light, position of the camera and what to wear as well as make up advice from an expert makeup artist
What does your Zoom space and background look like?
Whether you have a home working space designated in your home or you are having to use the kitchen table or a corner of the sitting room the same rules apply. Your working space doesn't necessarily have to be your video space. So decide where this space is going to be? Privacy on a call is obvious so that you are not interrupted, however, I completely understand this isn't an option for everyone.
To be honest, I couldn't quite decide what's more important to tackle first, light or background but feel that I needed to start with the space and background.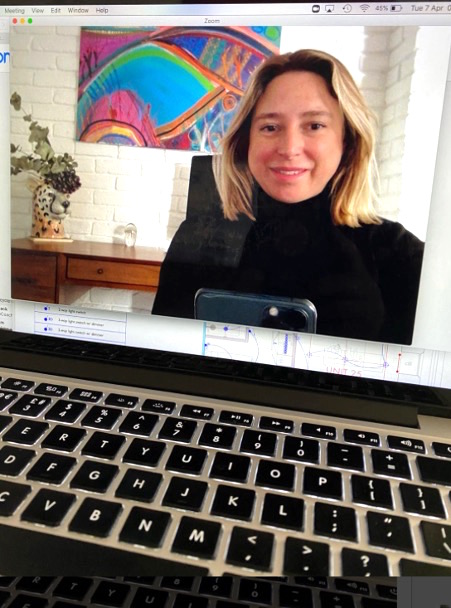 Taking Selfies will help you to assess different spaces
Start by having a look around your home and take selfies with your phone in landscape mode, ideally on a sunny day, both in the morning and evening to see how the light travels around your home. You may prefer a plain wall behind you or want to bring in a little colour and personality with book shelves and plants. Nicola Brown from Construct-Design London is offering a free Background Surgery Session for your virtual space. Get in touch with her for a fun-filled 30 minute makeover. I know Nicola personally and she has a wonderful bubbly personality!
Keeping your background tidy is the most important thing (even if it is only from the waist up). If you have shelving, are the books in order, right way up? Loose papers put away? Are the pictures on the wall straight? Is there anything that you don't want people to see such as clothes and towels hung on the back of the door or chair? Are the doors in view closed? You can learn more about how to improve your Zoom persona by starting with 'What not to do on a video call!' by Robin Kermode I first saw these great videos on LinkedIn Video 1 and Video 2.
This is for business users: does your background reflect you and your brand?
I don't mean putting up a banner behind you with your logo but to seriously think how you can bring your brand colours or the imagery on the walls to the room so that they link with what you do.
I'd like to introduce you to Joanna Gilbert, a contemporary artist. She uses uses her studio as a backdrop and does it perfectly. You can almost feel that you are in her studio with her. I also love the way that she has positioned herself to the side of the frame so that you can see more of her artwork.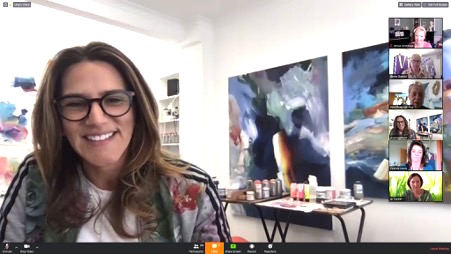 Lights, camera, action!
Now you have the perfect background – what next? Light!
I have been fascinated watching how even the professional TV presenters find lighting a challenge. Many are are clearly struggling to get it right. Some face a window and look like ghosts and some go to the other extreme and put their backs to the light and can't be seen clearly.
As a photographer my life is about using light and I have often had wonderful locations but have had to manipulate light instead using daylight i.e using speed lights or studio lights.
The problem with too much light on your face
I'm lucky to have an office which is north facing, as I never have sunlight streaming into my space. My background is very pleasant too – it is a creative space and is the best place to do video calls with my desktop. However, I need to manipulate the daylight as it is too bright and my face becomes over exposed using the inbuilt camera on my desktop. You can see this clearly in the before and after image below – but what made the difference? I used a diffuser! You may have the same problem so what can you do? A diffuser is made of a sheer fabric that creates slight shade. It still allows light through but softens it so it isn't as harsh. How can you do this at home? Well you could buy a large Trigrip Lastolite diffuser (can be rested against you desktop). You can also use some old net curtains or sheer fabric that allows light to come through. Putting the light on in the room also helps to the camera adjust the exposure.
Another thing to remember is that your screen might be too bright – so turn the level down too to see if that makes a difference.

Do you need to lighten up your face?
An unlit face on a call could is not great as people can't see you clearly. You are likely to be facing a wall away from daylight or you haven't enough light in your room to illuminate you. If this is the case you need to bring a light in front of you. A temporary fix is to use a desk lamp to light up the area where you positioned but it might be worth investing in a dimmable selfie ring light which comes with a LED light and a holder for your phone. By turning up the brightness on your laptop / desktop helps a little too.
The ring light can be attcahed to the side of your desktop or laptop. The light can also be used for one to one FaceTime/ Skype calls very easily anywhere in your home. You don't have to be an Instagram influencer to own one! Very good examples are Neewer 18-inch Outer Dimmable SMD LED Ring Light Kit – which is quite substantial for a small light and can attach to the edge of a table, and the Handsfree Diyife Selfie Ring Light.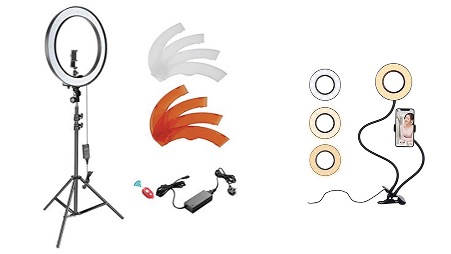 How to position your camera when using a desktop or laptop

Desktop cameras are positioned at the top of the screen so there is an advantage of being just above eye line as it is a flattering view.
Laptop can be moved anywhere but if it is on your lap or your desk you are going to be looking down at the camera at the top of the screen. I love Robin Kermode's first video showing the different positions over a laptop that people are adopting while on calls. Video streaming your double chin and flaring nostrils are not attractive. Laptop stands are a great help here. You can buy one for your desk to bring the camera up to be above eye level. Balancing on books is a popular temporary option (not advised) but as video conferencing is going to be very much part of our lives my advice is to invest if you haven't got a desktop in your home. When I did a google search on the "best laptop stands" in October 2019 the Evening Standard highly recommended the ones I've included here. Remember to check when purchasing that the stand is compatible to the make and size of your laptop.
Camera position – mobile devices
Mobile phones – It is really quite tiring holding a phone while on video call and I usually end up slouching on my sofa with my arm resting on a cushion after a prolonged call – not a good look! I previously mentioned the selfie lights and stands from a light point of view but these stands are a fabulous investment for all those individual calls you are going to do. Whether they clip on to the side of your desk or they are on situated on a stand. One good tip is to have the phone in landscape as if the person you are video calling is on their laptop you will be seen more clearly on their screen.
Tablets – These are a little more tricky to handle as they are bulkier to hold on a call and again you end up looking down at the camera. Even if you have a simple stand the angle isn't the best for video calling. You want the tablet / iPad to be at a more upright position. See the following which attaches to the desk and was recommended by The Telegraph. As you can see the bendy arm can be manipulated to get the right position.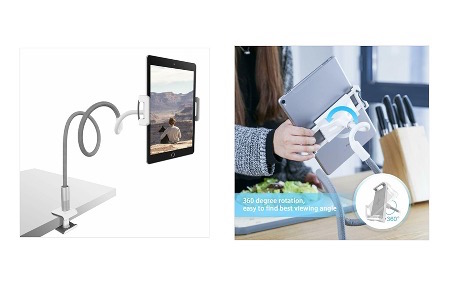 Are you ready to do business online?
When I am commissioned for headshots whether personal branding photography, corporate or just a simple headshot for LinkedIn I forward my clients a "What to Wear" guide which not only includes clothes but make up advice for women and grooming advice for men. Depending on the nature of the business my recommendations for my clients could range from smart casual to more formal structured garments eg suit. However, being online in your home, formality is being relaxed so here are some tips on your personal presentation for business.
Women have their own challenges
Start with making yourself feel comfortable. The funny comments that we are dressed for business only from the waist up are there to entertain us but there is no problem with that (unless you leave the room and you forget to turn your video off). For me the the mental preparation for an online meeting is really important. By getting up early, showering, doing my hair and make up and dressing in smart casual clothes helps me to face the call with confidence. Let's look at your wardrobe to start with. Is this the time to have a rethink? Are you fully confident that the colours you wear suit you? Do you need a second opinion? Experts such as Anita Feron Clark offer help with colour and styling. Anita has years of experience of polishing the image and look of both professional men and women .
I advice my personal branding clients to avoid big patterns and stripes. White and black are not great either as these colours do not suit the majority and white and very light colours can be picked up by the inbuilt cameras and overexpose the area and detail is lost. If you represent a business, bringing a hint of your brand colours into what you are wearing is an effective touch.
Make up is worth paying attention to. I asked my good friend Rachel Barclay who is MUA (make up artist) for her favourite make up tips.
I'm not saying that you need to stress about the need to look good on calls. But there are some great tips to make you vibrantly visible and looking the very best version of you! Apply some tinted moisturiser or bb cream to brighten up and even out your face, no need for full coverage in Zoom life! A little black or brown eyeliner on the upper waterline will really open up your eyes and of course mascara to fan those lashes! Brush some bronzer on the cheeks, upper forehead and jawline and blend in, this will act as a natural contour, thinning the face and accentuating where necessary. Choosing a bright lipstick is a good tip as that makes the vision really pop! Also remember to brush and style your hair, maybe tie a jaunty scarf in it or place a pretty hair clip in, remember your hair frames everything that's going on in that little square of loveliness and connection. Rachel Barclay, MUA.
What should men wear?
Start by thinking who you are networking with and always think of what your business is and represents. You will know and have a sense of what is expected of you as far as the way you dress is concerned. If your useal look is clean shaven then do continue being so (unless you fancy growing a beard). One piece of advice I give for my headshot clients is to check for unwanted hair; nasal hair, hair out of earlobes and untidy hair cuts. Your face is going to be as much a focus as it would be in a face to face meeting so these details will be noticed.
Pure white or light colours are not a good choice as the built-in cameras can over expose. Avoid stripes, patterns and large checks unless you are in a creative industry and that is part of your brand and your personality. If you want to wear a white shirt then break it up with a pullover (if it isn't too warm outside) or a jacket if the business you are in requires formal attire.
One of the biggest problems both men and women are having in lockdown is hair! It may mean shaving around the neck to make the hairline more tidy and using styling products to tame your hair.
Hope you have found my article useful to you. If you would like my "What to wear guide" or you need any other advice on this subject at all please contact me at annie@anniearmitage.com