Kari Sherman, local founder of frozen baby food brand Tom Pom Organic doesn't just create organic, nutritious and minimally processed baby foods, she also lives as 'green' as possible. We chatted to her for some great tips.
Your little one is approaching six months, and with all the trends, books and social posts on ways to wean your baby, it can feel so overwhelming! When do I start weaning (introducing solids)? What foods do I start with? How do I know my approach will give my baby everything they need to grow?
You may be thinking of doing baby-led weaning, or cooking all your own purées and meals at home, buying baby food already prepared or a combo with new ideas thrown in. Whatever you decide, your instincts will serve you well, so go for it!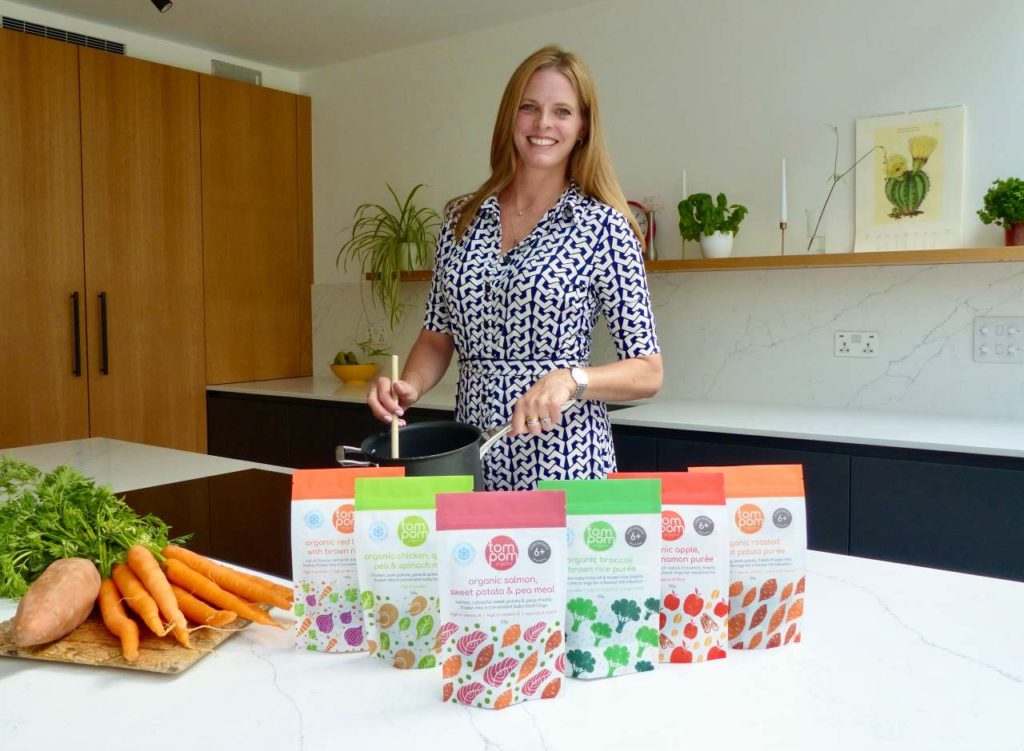 Here are a few facts from the NHS Start4Life to keep in mind as you and your baby enjoy the weaning journey.
DARLING10 for a 10% discount off all products
Our best tips:
When to start: Around six months is when your baby can sit upright, they can pick up food and bring it to their mouth and move the food to the back of their mouths to swallow. On the day you decide to start the weaning process, make sure baby is rested and some time has passed since their last milk.
What to start with: Studies show starting with less sweet flavours leads to healthier eating habits in life. (Garcia et
al 2015, Harris and Coulthard 2016). So start with more bitter flavours such as soft, cooked parsnip, broccoli or sweet potato, puréed to be sure they can swallow easily. Then add in more greens, herbs, flavours and increase texture. From seven months try moving to finger foods and adapting what you cook for your family for variety.
What vitamins are essential for babies the first year?

From seven months onwards baby needs:
Vitamin A: dark greens leafy veg, broccoli, dairy, carrots, sweet potatoes, mango
Vitamin C: broccoli, berries, peppers, kale, spinach, green beans
Vitamin D: in baby's formula or if breast feeding, speak to your GP about drops
From ten months: All of the above, and increase iron rich foods such as red meat, fish, dark green vegetables, beans, lentils, cashews (beware that the latter is a potential allergen)

How to know if your baby may have food allergies?
If your baby is free from eczema and there is no family history of food allergies, most likely they will not react to foods. Regardless, it is a good idea to introduce small amounts of the top 14 allergens one at a time, with three days between each introduction.

The most common allergies are dairy, nuts, peanuts and eggs, however, check out Allergy UK and the NHS Start4Life websites for more information on this and what to do if you are worried.
Weaning is an exciting journey, so let your parental instincts guide you and have fun!
If you want a high in nutrient, allergy friendly option as a back-up in your freezer, our handmade, freshly frozen purées and meals offer a great healthy option as our products are minimally processed and highly nutritious. Delivery to all London postcodes.
DARLING10 for a 10% discount off all products
www.tompomorganic.com for more tips and recipes. @tompomorganic
You may also enjoy reading about feeding toddlers here.