Rich in history, Hotham Hall became known for its visits by Sir Winston Churchill and Anthony Eden who both held speeches at the hall during the Suez Crisis. Later rock legends The Rolling Stones and The Who performed here during its time as a music venue.
Hotham Hall: luxury 3000 sq ft Putney dream property SW15 £3,395,000
The once Church Hall is now home to this large 3,003 sq ft apartment which has been home to a number of well-known athletes, music producers, DJ's, architects and could be your new Putney dream property.
An impressive open two-level living space boasts incredibly high ceilings and is surrounded by a bespoke fitted study/library, secluded gymnasium and the dining area that leads onto a hand finished Bulthaup kitchen and utility room.
The South wing of the apartment is home to a large principal suite boasting ample storage space, a large bathroom with separate shower. The suite has a feel of seclusion and nature. Its floor to ceiling windows are surrounded by gardens landscaped water feature.
The North wing is home to two further bedrooms and a further bathroom. The space can easily be used as a further suite should it be required. Each bathroom is finished with Crema limestone slab work and Vola fittings.
Italian limestone and dark oak floors run throughout the property and feature underfloor heating. There is a 7 zone multi-room Creston home automation system controlled by an iPad/iPhone and a 3 meter painted screen in the entertainment room that leads directly out to the beautiful South facing landscaped garden via large Crittall doors.
The landscaped garden wraps around the entire apartment with access points from both the main two-level living space and entertainment room. An Italian limestone patio is complemented by the gorgeous water feature than runs into the reflective pond under the master suite. Mature olive trees, bamboo and a cedar wood deck area complete garden.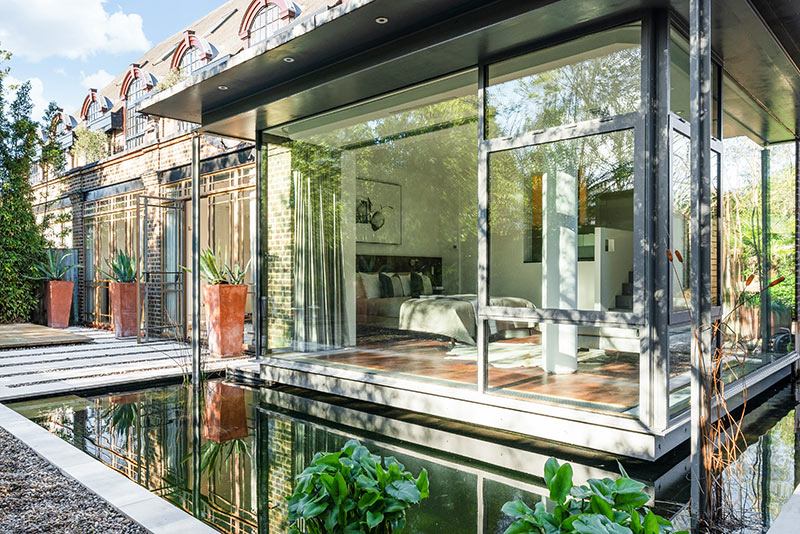 This Putney dream Property and the surrounding area
A short walk to the river Thames and Putney High Street, with its array of restaurants, coffee shops and shopping facilities, the property is also very close to the local Waitrose.
There is also reserved off street parking.
Hurlingham Club – 10 minutes
Chelsea Football Club – 15 minutes
Fulham Football Club – 15 minutes
Wimbledon Tennis Stadium – 20 minutes
Richmond Park – 20 minutes
Heathrow Airport – 30 minutes
Our new offices in Putney
Putney is a highly sought-after area on the River Thames in South West London. It has great nearby links to London and fabulous green spaces along with river walks and views, and we are delighted to now have an office here. Listed as one of the 35 major centres of greater London, Putney is the perfect place to call home and is enjoyed by couples, families and young working professionals alike. Being in the Borough of Wandsworth, residents can benefit from some of the lowest council tax rates in London. Putney Bridge was the second connection to ever be built across the Thames. London Bridge was first built (in 1729) as a link to London and the rest of the South West.
Highlights and attractions
This friendly neighbourhood has tons to offer, including a leisure centre with swimming pool and gym facilities, green spaces of Putney Heath, Putney Wharf on the river and Putney Exchange an indoor shopping mall. You will never be short on lush greenery in and amongst this vibrant town. It is well known that Putney retains 'an element of freshness and openness seldom obtained so near London'.
The vibe of this town makes it a hub that people enjoy coming to. In the day you can see rowers or paddleboarders on the Thames, Putney being famous for the start point of the Oxford Cambridge boat race. If you're not on the river you can relax right next to it, at Thai Square, a delicious boutique restaurant or The Boathouse for a family and dog friendly waterside pub experience. When the sun sets, Tequila Mockingbird is particularly popular, and with it being right on the river is the perfect choice for an evening cocktail. You can't skip taking a wander down to The Half Moon, one of London's longest running music venues having previously been home to The Rolling Stones. There's something for everyone in Putney, no matter who you are and no matter what time of the day.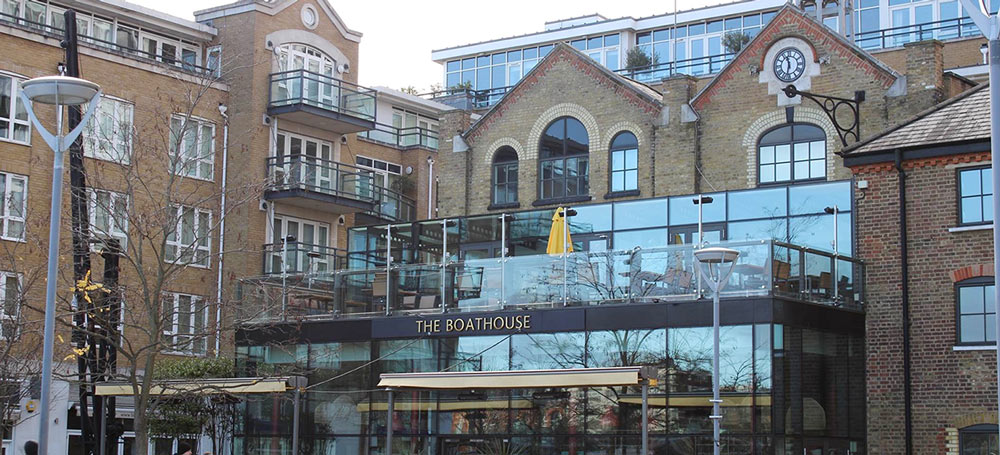 Commuting
Putney is situated in Zone 2 and benefits from a railway station and two underground stations. Putney railway station takes you to London Waterloo via Clapham Junction and Vauxhall in just 15 minutes. East Putney and Putney Bridge are underground and are connected via district line to Upminster. Along with these fantastic train links are a huge array of bus routes that serve Victoria, Fulham, Kensington and the King's Road.
Putney marks the end of the Beverley Brook Walk, a gorgeous 8 mile walk all the way to Richmond through lush greenery and woodland through Coombe, Wimbledon Commons and the Beverley Brook river.
You might also enjoy reading https://darlingmagazine.co.uk/home-leisure/property-investment/