Wren Loucks from be-kin is an award-winning, international interior designer, with a unique background in mental health advocacy, access consultancy and architectural interior design.
Wren's ethos on interior design
"At be-kin, I work closely with clients to design interior environments that support their well-being. I consider how lighting, texture, sound and visual aesthetics play a role in clients' health and productivity. I weave evidence-based research into the design process, to create unique spaces with a deeply integrated sense of well-being.
Often, my clients enter the design process unaware of how they are affected by space. Part of be-kin's design process is to unearth this, so my clients can be more intentional about the environments they inhabit for both leisure and work.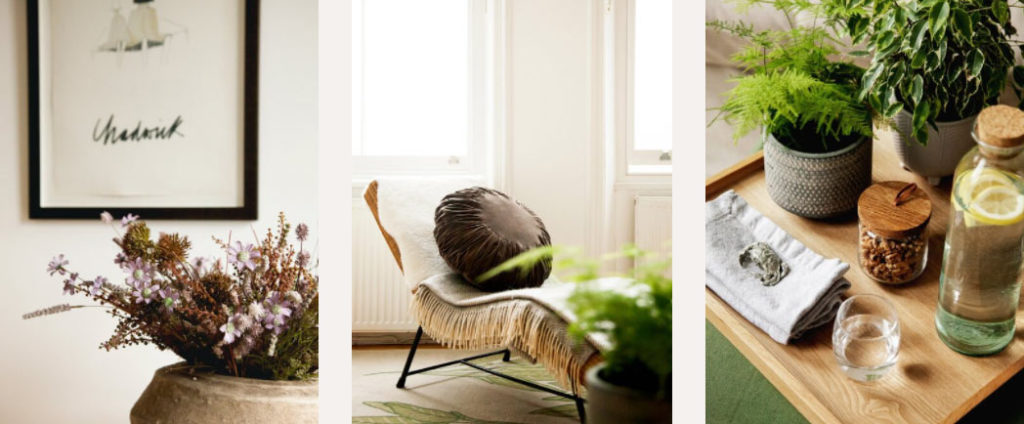 Tips on sensory design to develop well-being habits
Here are some tips for how to use sensory design. Part of the be-kin process, is to help you can develop habits that support your well-being and help you ultimately live more harmoniously with nature:
· RE-PURPOSE: Purchase antiques. Not only do antiques add depth to your space, through their unique designs and lovely patinas, but they mean we are reusing items that already exist. The act of looking for antiques is also quite fun and playful. You never know exactly what you will find – a bit like a grown-up treasure hunt!
·      REDUCE PLASTIC: Invest in beautiful amber glass jars. Then, buy items like shampoo and conditioner in bulk and refill the jars. Zero Living has some beautiful glass jars that I use in my own home. I also enjoy the simplicity of an amber jar, over a shampoo bottle with lots of labels, because it visually calms down the bathing environment. 
· CREATE A MINDFULNESS HABIT: Create a space for a mindfulness practice. This could be yoga, Pilates or meditation. Having a set space will invite you to make this practice a habit. For example, I recently set up a space in my bedroom to practice yin yoga before I go to sleep. I invested in a hemp bolster, cork blocks and a cotton yoga mat. Seeing this space, and feeling the natural textures, is soothing and the actual yin yoga practice is a lovely way to release the day.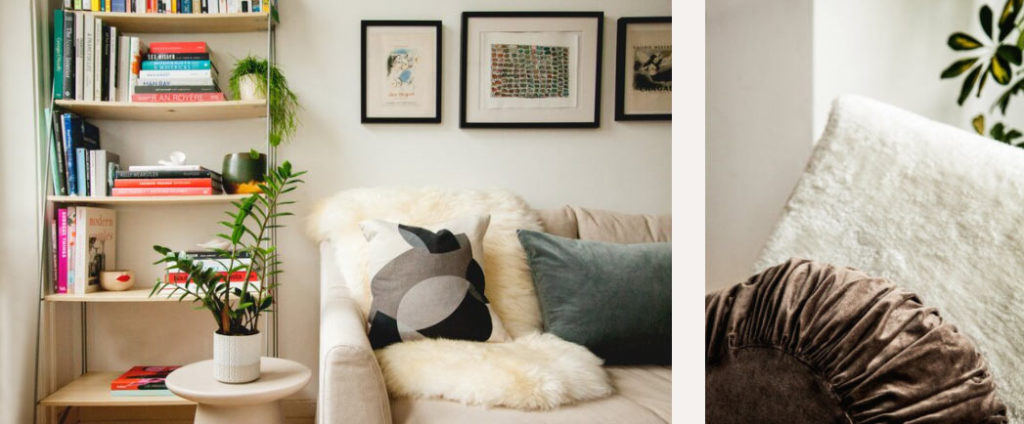 · TACTILITY: Invest in textiles that are made of natural materials, like cotton, hemp, sisal and jute — and vary in texture. One of my clients loves the feel of thick rugs, with varying pile heights, under his feet. In fact, I currently have a beautiful sisal rug from my friends at Coral and Hive in South Africa being woven on a large loom. Tactility brings us into our body, which is very grounding – especially if we spend a lot of time on the screen. Think about how you can incorporate textures into your home to ground you.
· SCENT: Some individuals find scent very overpowering, so it's important to be aware of this especially in communal spaces or in open-plan kitchen/living space environments. However, if you like me, are a lover of natural and sophisticated scents, candles can be a wonderful way to bring focus into a room. I particularly love Darling's 'Women of Inspiration' candles, and the fact that the glass jars can be repurposed after the candle has burned. I also love the smell of coffee; I hand-grind my coffee beans each morning so I can enjoy the act of grinding the beans and the aroma it creates. It also forces me to slow down and think about the day ahead.
· PLANTS: One of my favourite layers to a design is biophilia, which is the art of incorporating plants into a space. I live with lots of plants, ranging from a bonsai to ZZ plants, hanging ivy and pothos, to a very large Kentish palm. Touching the leaves, noticing the cycle of life and decay within the plants, grounds me. You can start slowly with plants. Buy one or two to learn about their requirements and then slowly build a collection. At be-kin, we have a skilled plant advisor who helps source and teach my clients about planting.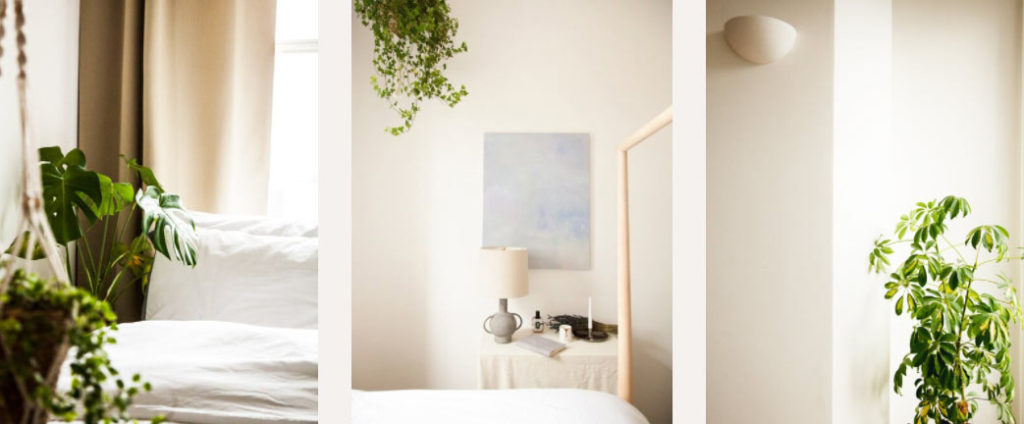 Reflect on your space
In summary, interior design can be used as a tool to produce higher well-being and productivity metrics. I encourage you to spend time reflecting on what spaces make you feel relaxed, energised, inspired and productive – and how you can incorporate some small changes into your home or workplace to cultivate a deeper sense of well-being.

Wren's experience
Prior to founding be-kin, Wren was Head of Design at Motionspot, who specialise in accessible design consultancy, and worked with large global brands on inclusive design strategies. She also worked at the renowned Studio Indigo, on lavish private and commercial homes in London and around the world.
As a Darling reader, you are also welcome to contact me for a complimentary consultation. Please contact me directly at wren@be-kin.com, or 07923286904.
@_be_kin (Instagram)
You may also enjoy reading about redoing your kitchen, the busiest room in the home.