I am a California girl through and through, a sun seeker, a nature explorer and bit of a tree hugger. I've also had a chance to live in some of the best cities in the world, taking something from each of their cultural influences with me.
I have a San Francisco mentality, with a dash of London cool and a nod to Paris chic. I am inspired every day. That is probably why I spend my days innovating and improving my business so that I can say I have the best salons in London among the best salons in the world. Growing up in Lake Tahoe with its world class ski resorts and beaches, I spent my youth traipsing through forests looking for plants to eat, and smell, and being so environmentally conscience about not polluting my beautiful lake and surroundings. Believing in flower power and being a city lover, I tell people that "I am a little bit Country and a little bit Rock and Roll".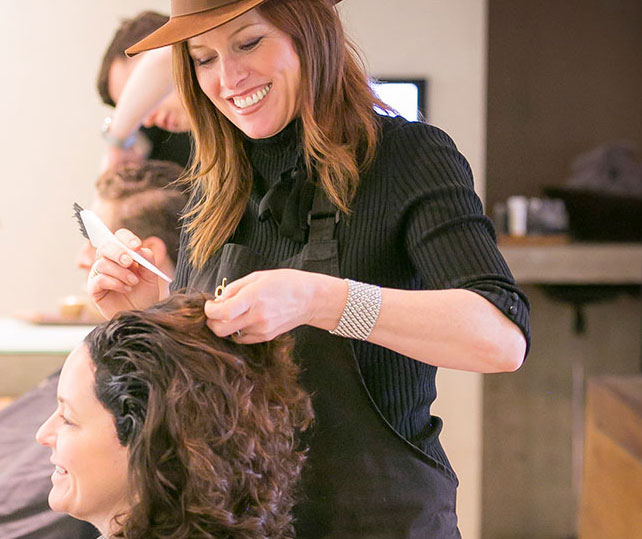 Positive vibes run through my veins and I wake up every day on the right side of the bed. I go to work thinking about how I am going to make an impact in others' lives. I look at the world through a creative lens and make sure that everything I touch is better for my influence on it. I walk down a street and pick up rubbish, I always take the time to tell the lovely ladies passing me that they look really beautiful today, and I mean it. I find beauty in all people. It has been my job since I was 18 to make people look great and feel great about themselves. I expose my guest's inner beauty and give them confidence and power. I fall in love with them. I find that thing, that light that they have been hiding. I share my secrets and stories, we have a laugh. I listen with all my senses to them so I can connect with them deeply. My heart is open and overflowing and I hope that I can share this with everyone I meet. I sprinkle all of my clients and team with fairy dust. Just for luck.
WHAT SETS ME APART
I think that is what sets me and my company apart, and why as a female business owner, I have something that men just can't give in business, and that is the raw, that is the heart. This has been both my blessing and my curse. It is the thing that has made me the authority in people pleasing, and servitude, but that also means that I am, and I can say this about almost all business women I know, it is the part of me that cannot boast about what I do, so I struggle to compete among the men in my industry.
THE WOMEN IN THE INDUSTRY?
I have been open 19 years now, served over half a million people over the years, have won several awards, 9 of which I won last year including 'Best Overall Business' at the Merton Chamber Best Business Awards 2019. I have 85 employees, a hairdressing academy and three beautiful locations in London, as well as being the top Aveda salon group in the UK, and I bet you haven't heard of me. I feel women in hairdressing get overlooked, and that is something I am trying to change. For instance, can you name 5 famous female hairdressers? Unless you are in the industry, you probably cannot. I have not met anyone who can unless they are in hairdressers or beauty editors. So I challenge you to be brave as I am today, to talk about yourself, and to tell your story.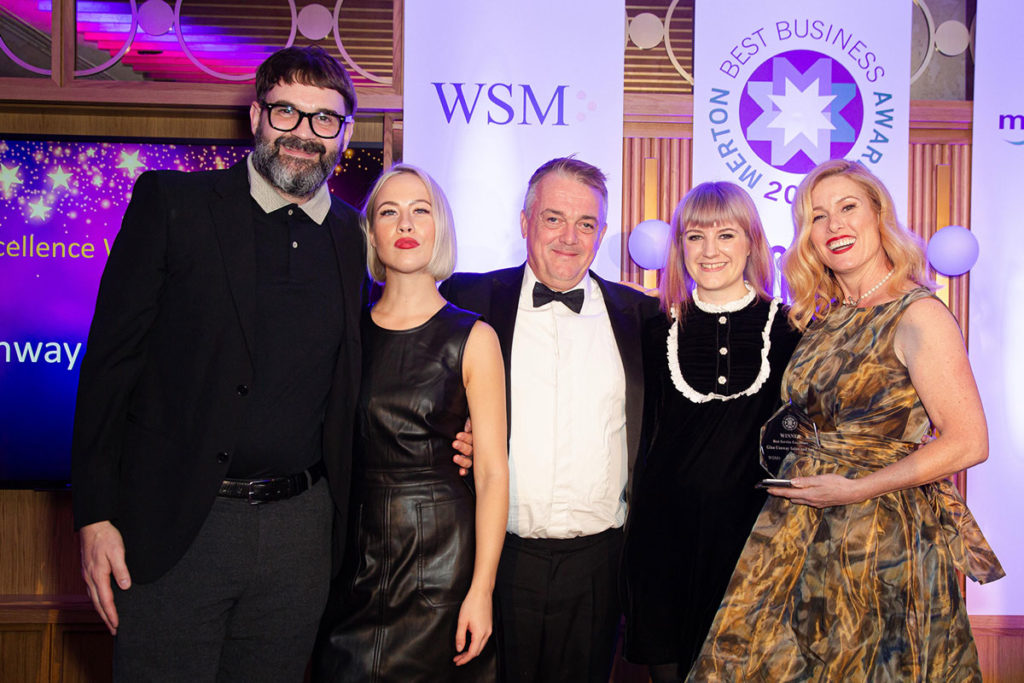 BRANCHING OUT  
I moved to London 20 years ago and worked at John Frieda Salon rubbing shoulders with the celebs and doing Vogue shoots and London Fashion Week. I felt at the top of my game but something was missing. I didn't get that love connection with the industry here, and I didn't feel anyone had that yearn to learn. The salon on Fulham Road is the first incarnation of a dream I had. I wanted to create a place where people wanted to come to work, and where our guests would want to come, and stay. 
Having worked in some of the top salons and spas in San Francisco and London, and completing a fashion degree, I was ready to put all of my passions into one place and grow a business from my heart. I wanted to give back. Our award-winning salons are filled with hand-picked artists and visionaries. Their passion lies in giving a bespoke service above and beyond expectations. Essentially, we are daymakers. Filled with American style customer service, and beautiful interiors, our sanctuaries are a haven, and once you close the doors from the hustle and bustle, you are really transported to another world. My vision of delivering love through service has always been about tantalizing the senses while aromatherapy and massages awaited every guest experience and a smile was freely and warmly given.
SERVING
I've also always had a strong sense to serve and a few years ago I was a major fundraiser for WaterAid winning a trip as the largest salon in Europe to raise funds to help bring clean water to poor communities around the world. In partnership with Aveda, I was helping to bring awareness about the issues with women in India, including educating the culture about menstruation and female rights. I got to see first-hand how the money we raise directly helps in these communities.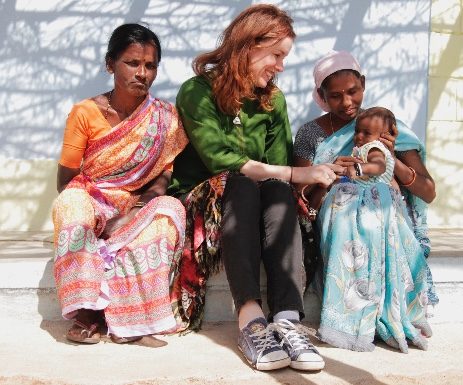 FAST FORWARD INTO THE 'TIME OF COVID'
And my dream is shattered into thousands of little pieces as my guests have been suffering from box haircolour and lockdown haircuts. These last 2 months I have been in survival mode. How do I continue to trade, while my bills still come, yet no income… none. And I am the only one not furloughed. So I am holding it together, and hoping I can still deliver that service, and that 'masked' smile when we get to reopen.
GINA'S LITTLE BOX OF LOVE
Entrepreneurs don't take no for an answer, and I have had to pivot too, where I thought I could not, it seems I can. I have just launched Customized Colour Care Kits so women can look great again with the guidance of a professional, and a bespoke formula of Aveda hair colour, all wrapped up in "Gina's Little Box Of Love". I am also launching a series of beauty boxes too where you can meet a therapist and video consult about skin concerns and how to bring back wellness in your life and home. I hand pack these literally in my garage and it feels so great having a purpose and giving care again.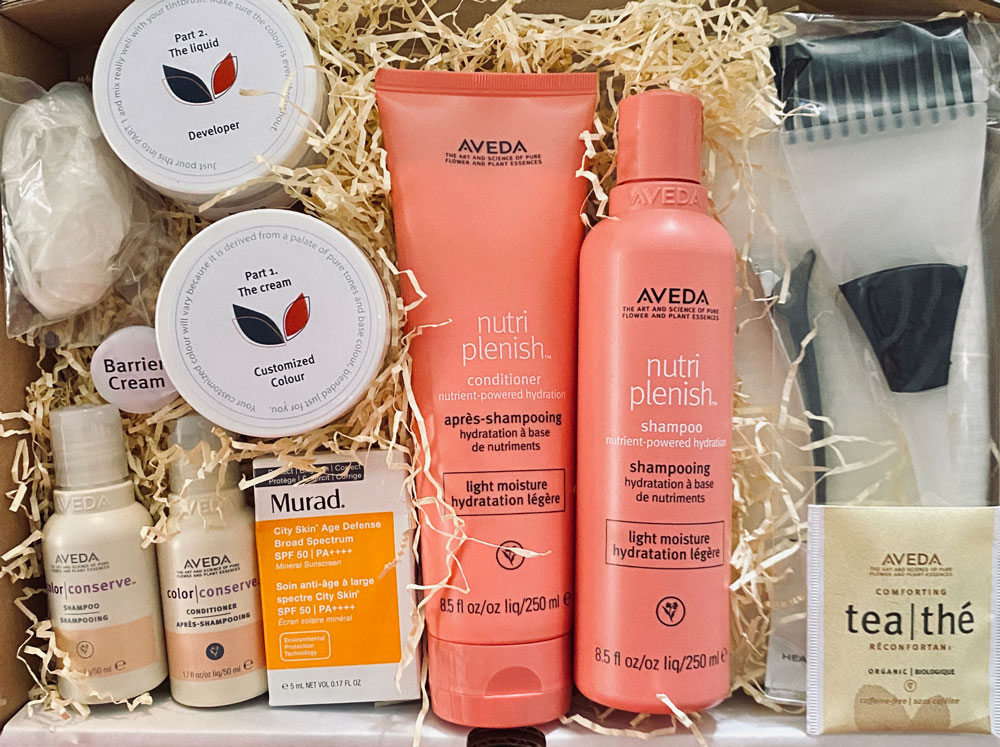 Going to the hair and beauty salon will not be the same for a while. But I will continue to create an experience that you can feel is moving and meaningful and will make you smile again.