We're joining the world's largest vegan movement 'Veganuary', which inspires people to try a change in their eating habits for January. Darling spoke to some mega stars in the plant-based diet movement to bring you some tasty recipes.
BETTINA CAMPOLUCCI BORDI – chef and writer, owner of the very popular 'Bettina's Kitchen'
Well, it's certainly been an interesting start to 2021. With everything going on in the world I, like people up and down the country, have taken great comfort in cooking. Having thrown myself into recipe testing, I am currently working on my third cookbook. I have always enjoyed discovering new ingredients and produce on my doorstep, and for me that's what Veganuary is all about. I think we all need a bit of something new and exciting in our lives at the moment!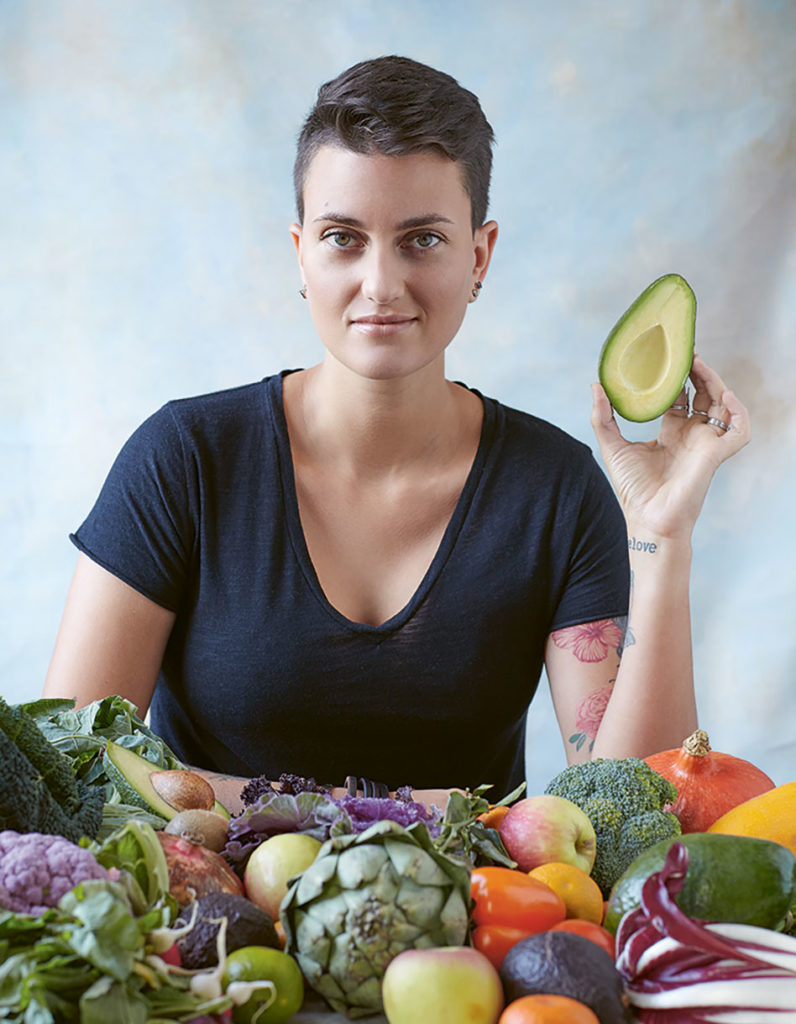 A plant-based diet does not have to be complicated. Simply start off with grains, pulses and basic veggies and so much can be achieved. When you have great seasonal ingredients you don't need to overcomplicate things. It's one of the reasons why I wrote the 7 Day Vegan Challenge, a book that shows how vegan cooking from scratch is easy and delicious.
My top tip for those wanting to be a bit more plant-based is to simply sign up to a local veg box. At the moment I am receiving one from Ashdown Organics and Natoora but there are so many wonderful companies out there.
Whether you're looking to eat more veggies or have decided to turn vegan, there are so many fantastic recipes out there. I'm sharing my non-meatballz recipe, from my first book Happy Food, which borrows flavours from my Scandinavian heritage (my father is Norwegian and my mother is Danish-Bulgarian). Served with a smooth carrot mash and some quick pickles, this is a hearty dish and you won't be missing the meat!
If carrot mash isn't your thing then how about going for a simple spaghetti and tomato sauce? I recommend making a big batch of the meatballs and using them for two meals, or you could freeze the mixture and use at a later date.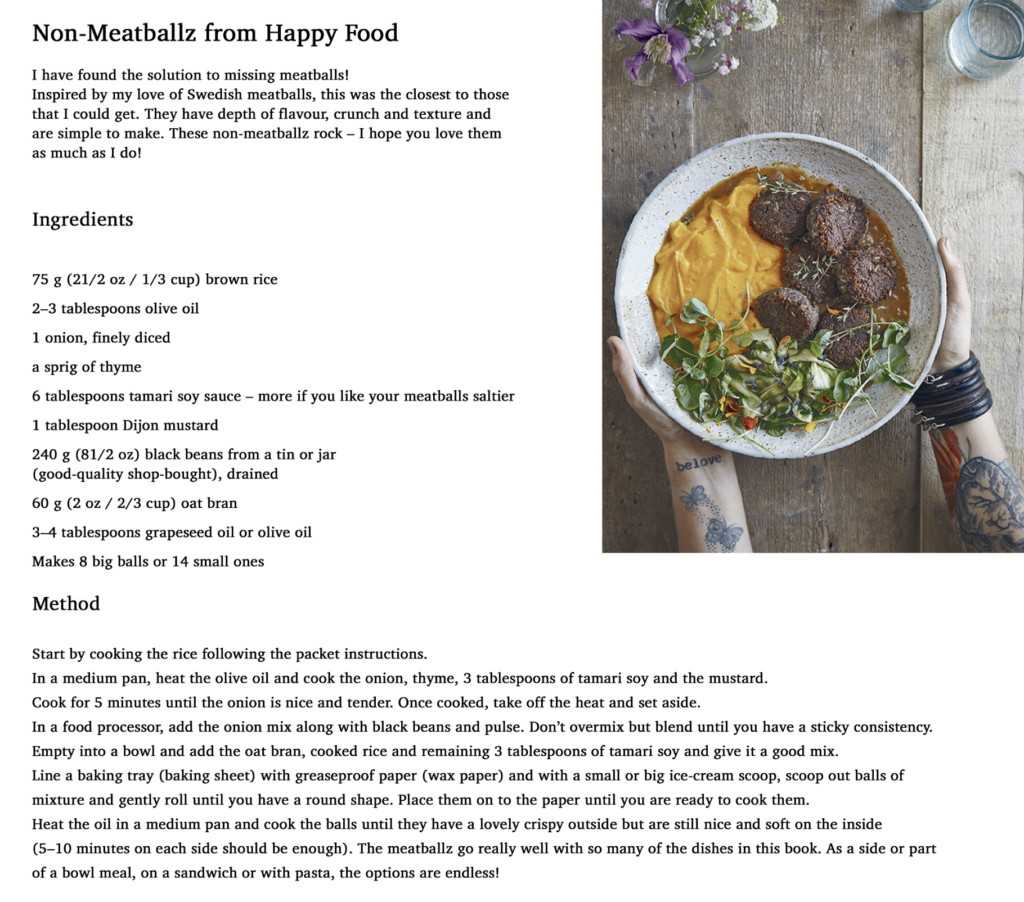 I have found the solution to missing meatballs! Inspired by my love of Swedish meatballs, this was the closest to those that I could get. They have depth of flavour, crunch and texture and are simple to make. These non-meatballz rock – I hope you love them as much as I do!
ANJULA DEVI – chef specialising in Indian cuisine
As more and more people join the Veganuary revolution, I have to say I'm not entirely surprised. Vegan or plant-based food has been an integral part of Indian culture for centuries. I grew up on an almost-entirely vegan and vegetarian diet. As a child, it never occurred to me to save the planet, but I guess the collective dietary actions of many Indian generations have played their part in looking after the planet in a positive way.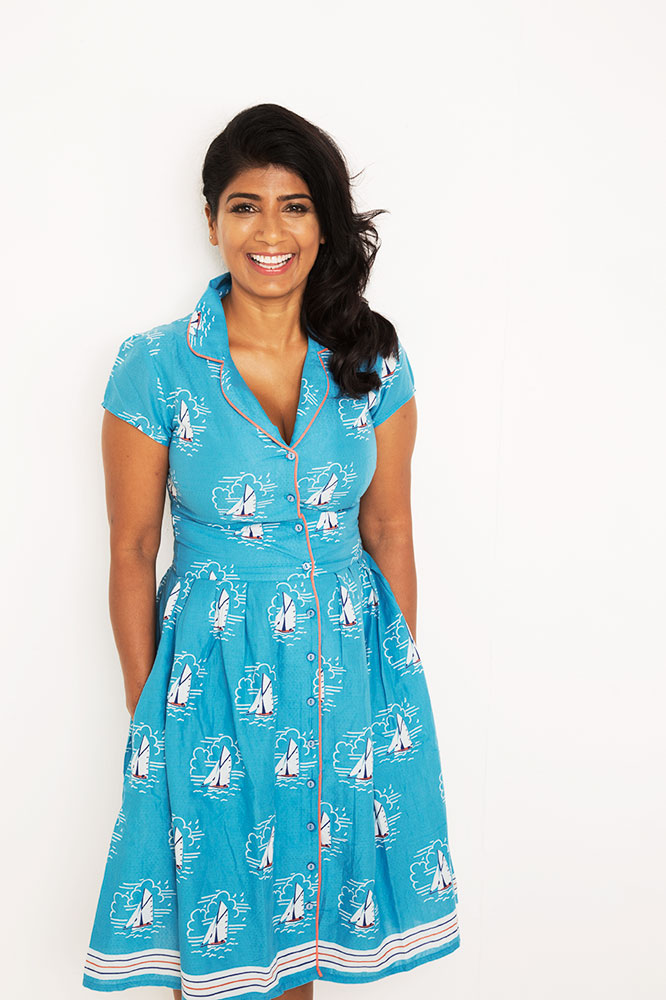 As a chef it has been a wonderful time to become even more creative with plant-based ingredients and it's amazing to see leading restaurants and retailers sharing their recipes and experiences too.
It's definitely challenging for most people to 'go vegan' for a whole month, especially for really committed carnivores. Also, the tired jibes about veganism can weigh heavily on some people. I firmly believe that the vegan lifestyle will continue to rise in popularity in generations to come. It will probably continue to be one of the most visible dynamics in our dietary evolution.
Some people think that adopting a vegan diet is tough and that you have to comb supermarket shelves to locate vegan foods. Actually, the keys are having some good basic cooking skills and the right readily available ingredients. An enthusiasm to create your own vegan recipes from scratch really helps too.
We've been making delicious Indian food for years, cooking a lot of great recipes which just happen to be vegan. It's not just about Veganuary for a lot of South Asians, it's a way of life.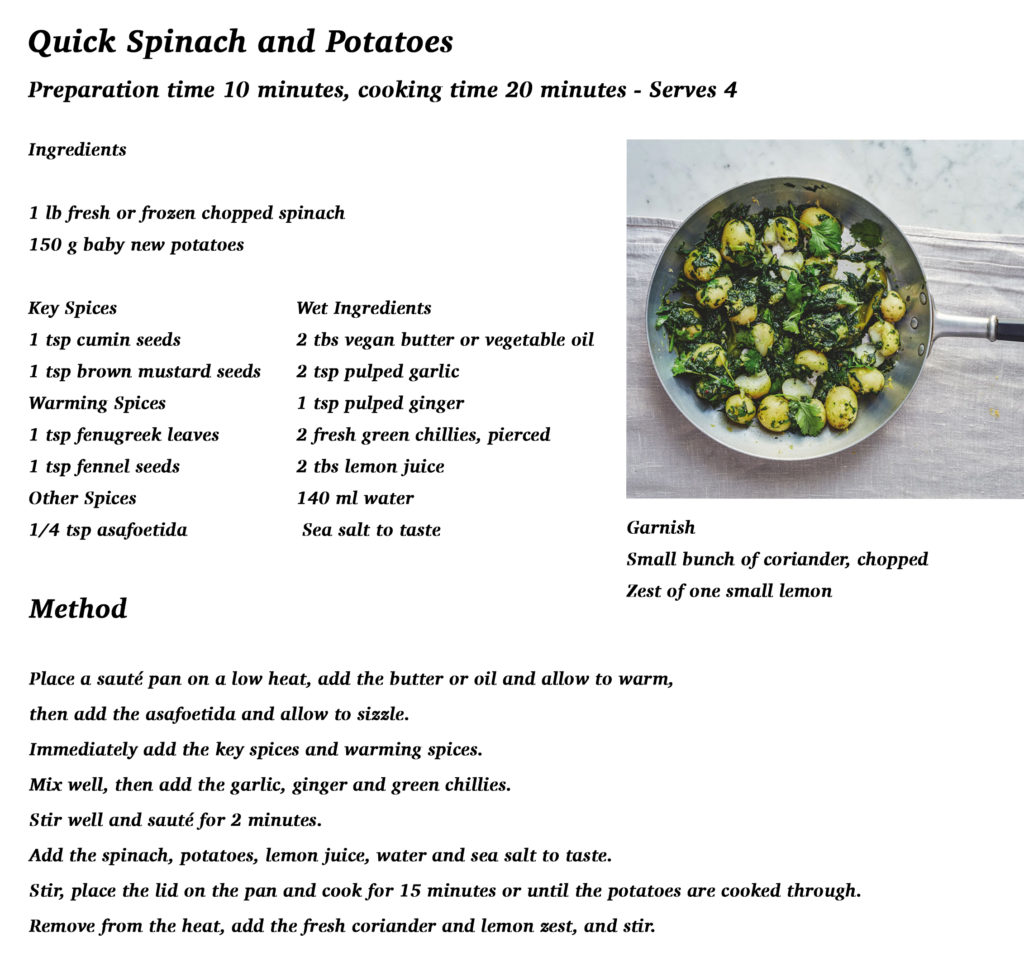 'We always had plenty of spinach and potatoes growing in the back garden, and we'd serve this dish with delicious makki di roti (corn flour bread) which is gluten free too. Dad, in full Popeye mode, would sometimes give us leftover spinach and potatoes with a crispy paratha before we went to school, telling us how clever and strong spinach would make us. Later on I discovered that it has anti-inflammatory and anti-cancerous properties, and helps prevent cataracts and macular degeneration. Dad was always right'.
Photography – Dan Jones
NIKI WEBSTER – plant-based chef, Insta queen and successful author
This year's Veganuary is falls within a very different backdrop to previous years and with many peoples focus on the current lockdown I felt that it might take a back seat – so it's fantastic to see over 500k people signing up to take the challenge.
Despite everything I think it's an exciting time for plant-based eating, with more and more people understanding the environmental benefits of eating less meat, trying Veganuary or at least incorporating more veg based meals into their diet.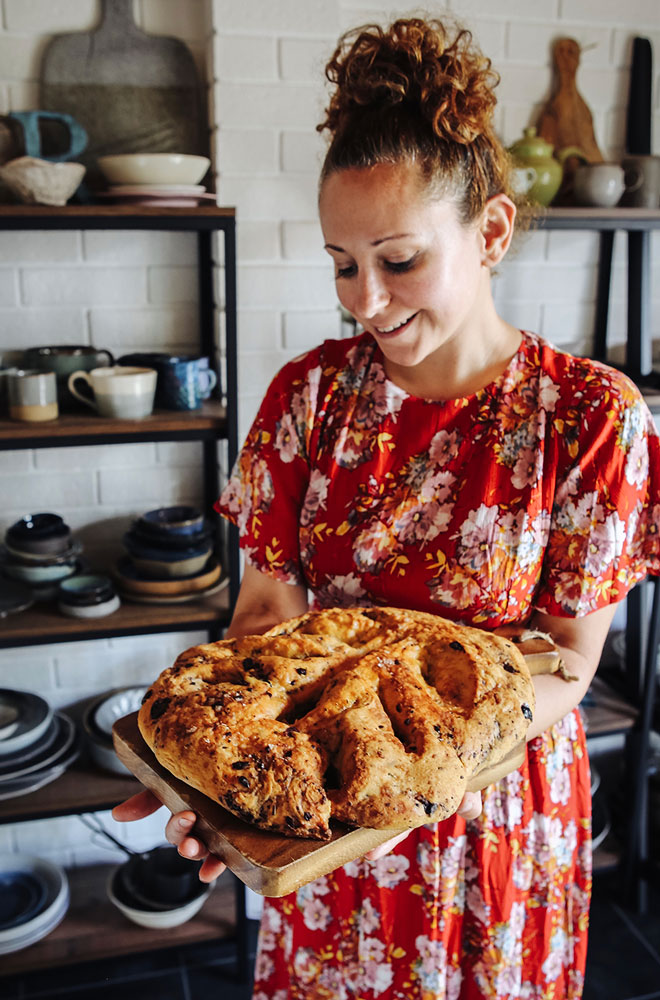 My second vegan cookbook Be More Vegan which was released before Christmas is a resource for young people or anyone wanting more information about going vegan. It talks through the ethical, environmental and animal welfare issues plus how to be health on a plant-based diet with 50 easy and tasty recipes.
A great place to start with vegan cooking is a classic one-pot dish and this is one of my favourites. My lovely, spiced soup is one of my all time favourite soups to eat this time of year. It's packed with hearty ingredients rich and wholesome lentils, chickpeas in a lovely warming spiced tomato sauce. The spice combination is warming and smokey (cumin, cinnamon, turmeric, smoked paprika & chilli) – its like a lovely hug in a bowl.
I love to make a big batch of this at the weekend and usually freeze half and eat the rest for healthy lunches. You can drizzle some creamy tahini dressing over for extra deliciousness.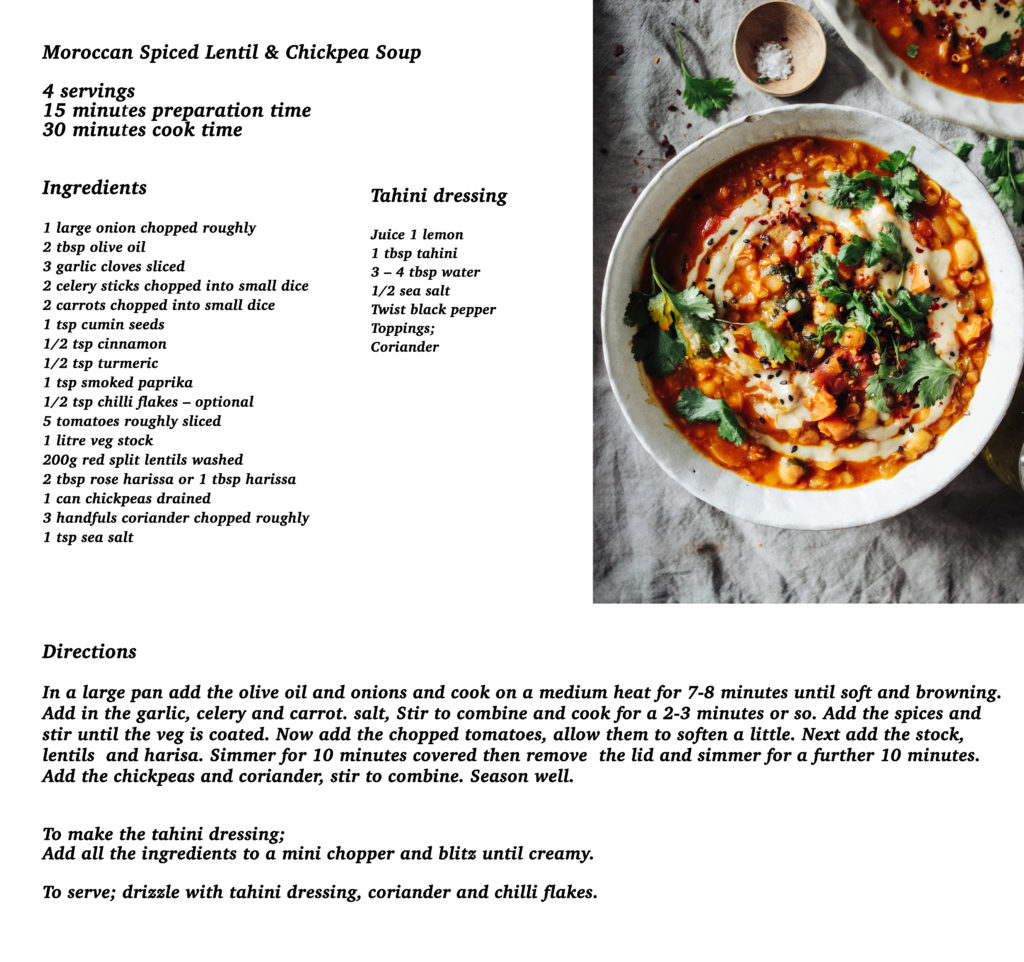 MOLLY NATHAN – owner of the exciting new The Social Distancing Kitchen
I think one of the reasons the idea of Veganuary is so daunting for people is that vegan and vegetarian food has historically been marked as 'boring' or 'flavourless', which is completely untrue! If you were vegan ten years ago and went out for food, you'd be getting served plain leaves on your plate. We are living in a vegan revolution now so get on the band wagon!
Getting creative in the kitchen with vegetables is an ethical and much cheaper option than cooking with meat! Get your spices out the cupboard, get on google or put your head in a cookbook and you will find so many things that tick your boxes. I'm not saying it's plain sailing or massively easy to cut out all animal products (I really hate not having cow's milk in my coffee) but it's definitely easier than Dry January, so stop moaning.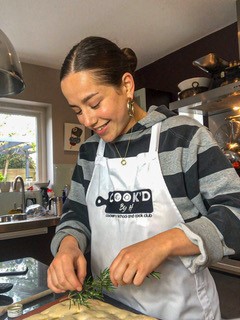 Obviously, if you are really struggling with the concept, I would recommend getting your hands on one of our A Little Bit of Goodness Boxes. If anything can sway you on the vegan way of life, it's those bad boys. My absolute favourite recipe at the moment happens to be vegan. I cook it most days for lunch, it takes 10 minutes, warms the soul and is actually good for you!