Most men appreciate a useful and practical gift. I hope we are not over simplifying things here by saying this but this is our experience of the male species. And we have fathers, husbands, partners, brothers and sons, not to mention male friends, so we have gathered some experience over the years.
You can't go wrong with a gift of their favourite drink
Artisan Drinks offer gift boxes and also a Craft Cocktail service of a range of amazing cocktails created by Katie Vintage Coctails in Cotswolds.

1. The first Gin Box will include two 20cl Artisan Gins of your choice from the award winning Distillery Two Birds. The list includes:
Watermelon Gin, Pink Grapefruit Pomegranate Gin, Rhubarb Gin, Strawberry Vanilla Sloe Gin, Lemongrass London Dry and five Fever Tree tonics, Gin Garnishes and a personalised card – al this for £34.95.

2. Option B2 Batch 20cl.to include Industrial Gin a double Gold medal winner & the super popular Signature Spice/sweet spice 12 botanicals Gin and five Fever Tree tonics, Gin Garnishes and also a personalised card. £34.95

3. Option C – Craft cocktails showcasing Katie's Vintage cocktails. Rustic Style sourced from The Cotswolds. Artisan spirits with the freshest herbs/ fruits. 6 for the price of 5. £34.95
We run a same day Artisan Gin delivery service to all London postcodes.
FREE DELIVERY to all London postcodes. Ask about delivery to the rest of the UK and their ongoing promotions.
Fancy professionally mixed cocktails? Artisan Drinks can do these for you too. Minimum order applies.
www.artisandrinks.co.uk
For the wine lover in your life
Wine@Heart, a local company launched by Cara & Tilly during lockdown, is a wine delivery service with a difference. They LOVE choosing wines for people, special requests, pairing advice, bespoke gifts for loved ones – these ladies are all over it! Wine@Heart offer a no nonsense approach and helpful descriptions of the wine and top if off with some lovely (sustainable!) packaging and gift labels to make your delivery feel extra special. 
Cara & Tilly have tried and tested some big hearty reds which make an extra special treat for Father's Day. We have two pre-picked selections for a 3-bottle gift box.
1. Dads @ Heart Box 1 – £60
2. Dads @ Heart Box 2 – £90
Both gifts feature delicious wines from superb quality New Zealand Pinot Noir to some beautiful Barbaresco – and a few things in between!

If the dad in your life would prefer some whites, or something more bespoke – just get in touch – they'd love to help! www.wineatheart.co.uk
Beer is a pretty safe choice too
Wimbledon IPA & Pale bundle
£45.00 for a case of 24
Choose a mixed case of 24 bottles – 12 of each of the 2 below!
Wimbledon IPA 6.2% is balanced with spritzy carbonation, the beer finishes with crisp hop bitterness leaving a satisfying mouthfeel and the desire for another!
The new juicy aroma of Wimbledon Pale Ale 4.2% jumps out, followed by a tropical and zesty taste with a dry, bittersweet finish.
XXXK Vintage Ale 10% (limited release). £20.00 per bottle
The epitome of craftsmanship in brewing
A brief history of the X and Barley Wine
In the Middle Ages, when many were illiterate, the strenght of beer was simply marked with the use of 'X'. The more Xs, the stronger the beer! The K in Wimbledon's XXXK stands for 'keeper' and is a beer which, whilst delicious to drink now, can also be left to mature for several years as you would with fine wine.
The inspiration behind the brew was the discovery of a late 19th-century poster from the Victorian-era Wimbledon Brewery, advertising 'XXXK Strong Ale'. This is a style which also came to be known as barley wine – this is beer with alcohol by volume typically between 8-12%.
A selection from Real Ale in Twickenham: Beer and Wine Mixed Case to PRE – ORDER. £59.95
1. A lovely mix of 9 craft beers and a couple of tasty wines. £59.95
The selection below is illustrative and may differ, but it gives an idea of the quality and variety you can expect. We will do our best to accommodate specific requests which you can include in the notes section when ordering.
All boxes will be gift stamped. We can also include gift messages.
2. Beer 12 Pack: Pale & IPA Case. £45
All orders for Father's Day packs will be delivered on the week commencing 15th June unless we are instructed otherwise.
Give something your man likes to wear and remind him of the giver every time he wears it.
A quality and well fitting T is always a safe choice if your man likes the more casual look.
Kent & Curwen has a cool range and we like this Orange Camo Patch T-shirt is £75 and a classic Ralph Lauren Soft Touch T-shirt comes in different colours such as a soft pink or solid navy £59.
These are from Robert Fuller Menswear, High Street, Banstead. A specialist menswear store packed with high brands for the discerning man.
https://www.robert-fuller.co.uk/
Comfort with fun designs
'It's Tee Time' Golf Socks or 'Vintage Scooter' dress socks, size UK 7-11 / Euro 41-45 / US 10-12, 1 pair, cotton rich.
With the aim of 'Making Your Sole Happy' these socks make the perfect gift for a man – especially if he's a golfer or appreciates classic Italian Piaggio Vespa scooters.
Ready to wear or add a personal message with high quality embroidery.
Spot on for celebrating a birthday or Father's Day. These colourful socks make a true statement making the wearer feel cool, warm and special all at the same time. We guarantee that they'll put a spring into their step.
Made using luxury combed cotton and feature a relaxed cuff and classic flat linked toe seams for all day comfort. Their composition, varying slightly dependent on pattern, is 75% Combed Cotton, 23% Nylon and 2% Elastane.
– cotton-rich
– ankle length
– machine washable
– available in one size:
UK men's size 7 – 11 / European 41 – 45 / US 8 – 12
https://www.etsy.com/uk/shop/Socksupermarket
Make your man the envy of the commuter train
Give your man an essential fashion accessory that he'll want to wear.
25 different styles – all 100% cotton, machine washable (30/40 degrees). Lovemymask are made to a high standard to ensure a perfect, and correct, fit over the nose and mouth and under the chin for maximum effect and protection.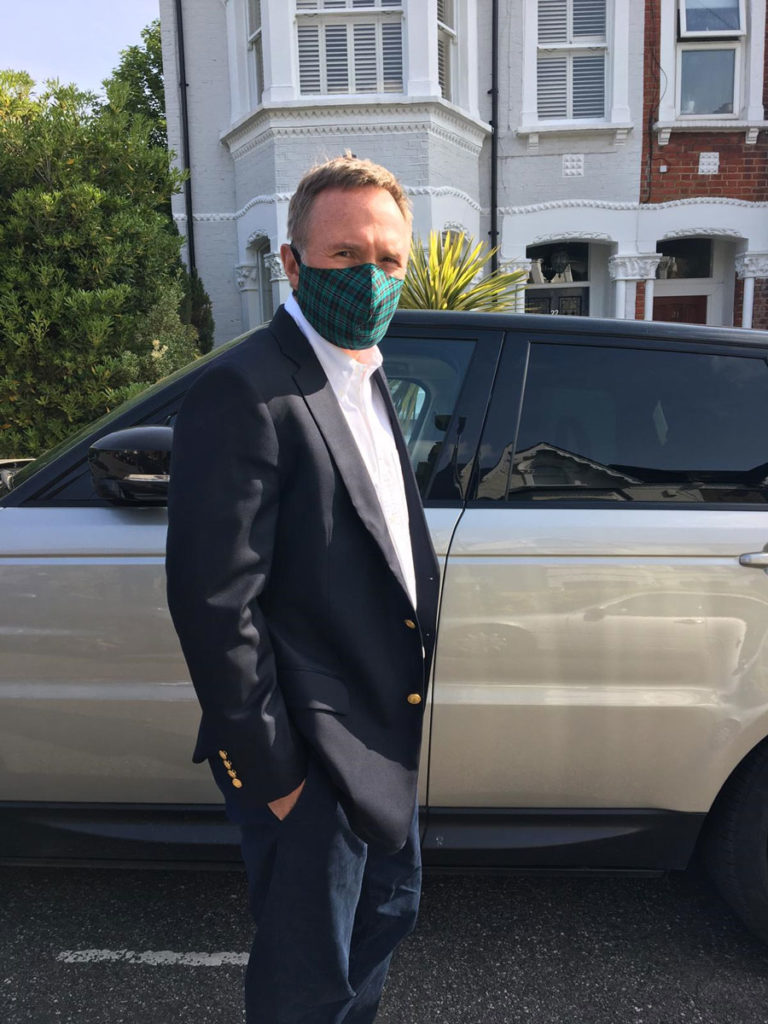 They come with a handy face mask pouch, to store away before and after use.
Also available custom made designs for special events such as weddings, special parties, corporate etc.
The masks are not "medical grade" but, do help protect the spread of germs and meet the government guidelines of covering your face when on public transport or out shopping. Lovemymask is donating one mask for every five sold to the frontline NHS workers, GPs, chiropractors, or anyone who through their job or activity is exposused to lot of people.
Lovemymasks are made in Wimbledon by seamstresses, who range from established local businesses to textile students, furloughed workforce, all are very talented people with a passion for sewing and a keen eye for detail and style.
www.lovemymask.co.uk