Darling editors enjoyed a superb supper at the newly opened Saffron Summer in Reigate.
What you'll find at Saffron Summer in Reigate, and in their sister restaurant in Chessington, would be expected only at top central London Indian restaurants, not necessarily in Surrey, and at double the prices too. This is no ordinary curry house! Saffron Summer can truly be described as a 'Haute Indian Cuisine with a modern twist' fine dining venue thanks to their Executive Chef, Oberoi trained Awanish Roy, who joined Saffron Summer from The Cinnamon Club in Westminster. He has continued to bring in the accolades and multiple awards since the first Saffron Summer opened in 2016, including the Winner of the Best Asian Restaurant in London Suburbs in 2019 and finalist in the London Surrey Awards in 2019.
We were welcomed by Manager Nacito to an elegant and cosy restaurant decorated with sunny yellow seating and paintings which instantly transferred us to the warmth of India. We are pleased to report that Nacito and all his staff take COVID precautions seriously and wear both masks and visors. All customers were also required to sanitise their hands before entering the restaurant.
Starters 
Karine started with a Prawn Recheado, Goan style stir fried prawns with crab and curry leaf kedgeree. A generous portion and very flavoursome. Marja-Leena's starter of Kaewari fried spiced Tilapia fillets, semolina and curry leaf crust topped with Masala mayonnaise was delicately flavoured with a hint of cardamon awhich went perfectly with the soft semolina coating.
Main courses
Karine went for more prawns as her main choosing a Calcutta style Malai prawn coconut curry with spiced mooli, Brussels sprouts and mange tout was divine. She did question the chefs decision to include sprouts in his curry, an unusual choice, but it worked well adding a lightness and crunch to the palette.
We just had to put one of Chef Awanish's signature dishes to the test and Marja-Leena's choice of Kabuli Gosht, smoked rump of Romney Marsh lamb, spiced lamb mince and green peas served with chickpea cause was truly sensational. Such richness of flavour in all of the dishes on this beautifully presented and superbly tasty pink and tender fillet of lamb plate.
Desserts
The dessert menu had some very tempting puddings but after such generous portions of both starters and main courses we simply couldn't manage more than to share their Pistachio Kulfi Indian style ice lollies on a stick. A perfect end for our journey of exquisite flavours.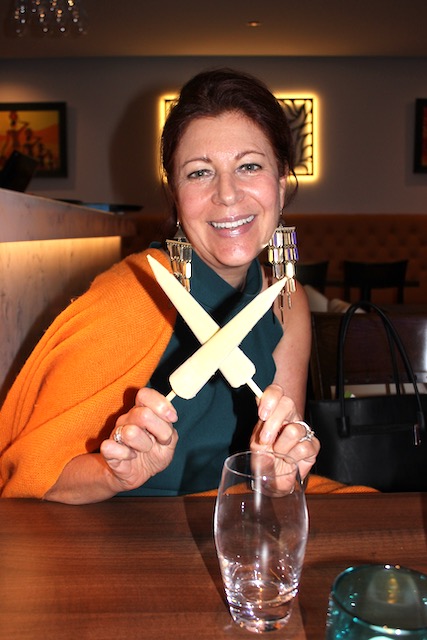 Wines
Saffron Summer has a great list of wines, well priced and carefully paired to their dishes as well as a selection of beers and ciders.
Whites; Macon-Fuisse, Domaine de Fuissiacus, Chablis, Domaine de la Meuliere and Sancerre Blanc, Moulin des Vrillieres compliment the spicy and complex flavours of all their dishes.
Their red wines are equally well chosen and include Fleurie, 'Grand Pre', Lathuiiere, Cabernet Sauvignon, Devil's Ridge and Malbec, Bodega del Fin del Mundo from Argentina as well as a couple of nice Riojas from Spain.
Overall verdict
We highly recommend Saffron Summer for food lovers, even to those who are not huge fans of Indian cuisine, as their cooking would likely convert you to one. We are happy to give ten out of ten for their food and service and are also perfectly happy with the decor, a bit more variety in the selection of art wouldn't go amiss though, and ambiance, even on a quiet Monday evening. We were told that they are buzzing at weekends so do book well in advance to ensure you can be catered for, especially during COVID restrictions with reduced tables and seating capacity.
Special offer during August:
Monday to Thursday 20% off for take-away and eat-in dining.
About Saffron Summer
Indian food is as varied as its culture, traditions and languages found in the 29 separate Indian states. Saffron Summer serves dishes from most of the regions, honouring traditions but adding their own modern twist to the cooking.
Game is a speciality at Saffron Summer and it's traditional in Coorg in Karnataka. Their seafood dishes originate from the coastal areas of Goa, Kerala and Malwan, also the more traditional Moghulai, Awadhi. Rajasthani and Punjabi dishes have not been forgotten either.
You may find the Indo-Chinese fusion from Chinatown of Calcutta has its own Indo-Chinee fusion food and these dishes are particularly interesting to many of their customers.
They also serve Indian street food and Indian tapas, often more unusual recipies which are served at lunch and for their special Indian Sunday roasts – be sure to try those at your next lunch at Saffron Summer.
Party catering at your home as well as at their restaurants is also available and Indian Street Food and tapas counters are a different and entertaining way of feeding your guests.
15 Church St, Reigate RH2 0AA
4 Ac Parade, Hook Road, Chessington KT9 1DR
0208 391 4477