Her Royal Highness showed her support to Surrey's efforts in supporting our NHS Heroes.
Darling Magazine spoke to Lavender in their kitchen for a few moments while they took a break from cooking for the hundreds.
Sophie, The Countess of Wessex, met Melanie Williams of Lavender Catering, a member of The Surrey Hill Enterprise, in order to offer her to support the local efforts in the Coronavirus response.
The Countess helped prepare delicious meals for some of the many hospitals that Lavender are catering for at the moment, including The Royal Surrey County Hospital Trust in Guildford and Epsom General.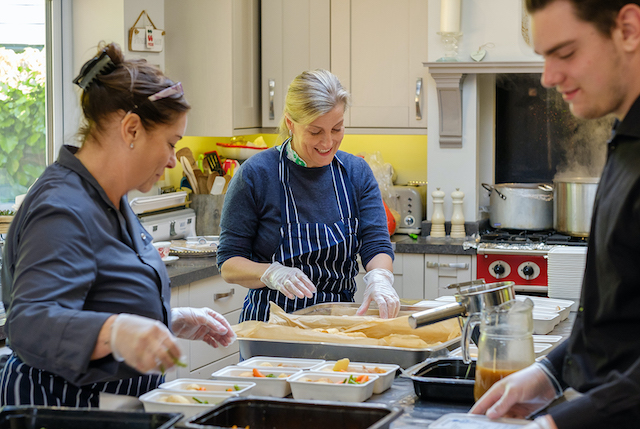 The meals that Sophie helped to prepare included delicious BBQ Turkey that had been cooked on real charcoal by Dave at Barbeque Chefs, and supplied by Surrey Hills member Adrian from Bramble Farm.
The Countess also met children who have been helping to bake delicious treats that accompany our meals and a couple of the drivers who have been very kindly delivering our meals in Surrey and Sussex.
Following the meal preparation, The Countess travelled to the Royal Surrey County Hospital to deliver the chilled meals to the NHS staff. On arrival she joined the volunteers to hand out meals to the frontline NHS heroes.
The support from The Countess was a great boost to the NHS workers and the volunteers.
Lavender Catering are extremely proud to have been chosen for this Royal Volunteering Visit to take place which will certainly be a very memorable occasion for all the team and helpers to remember.
Social distancing rules were applied throughout the visit as per the government guidelines.
For more information about how you can donate a superhero meal to feed the NHS please email hello@lavendercatering.co.uk
On March 23, when the lockdown was announced, what made Team Lavender ask 'what now'?
As the Prime Minister announced lockdown, The Events board at Lavender's kitchen suddenly went from a very healthy green to red or cancelled.
We asked Melanie what she would you have been doing had lockdown not happened?
As a catering company which offers a full range of services, at this point we would have been getting ready, doing some batch cooking and generally allocating all our resources for a very busy season ahead with wedding catering, outdoor catering for garden parties, celebrations, and other big events, but lockdown for us changed our landscape almost immediately.
When lockdown was announced what were your thoughts?
As the country went into complete standstill, the food industry turned upside down, normal groceries became a higher commodity than gold. We had industrial fridges and freezers full of food, and ambient products on our shelves ready for another season of high quality catering for events, so we felt it was only appropriate to do what we know best and that is to cook for whoever needed feeding.
So from then on, we started to cook everything we had in stock, and opened up a pop up shop in the local florist to start selling our home cooked meals, desserts, and kitchen essentials. Never had I thought I would be selling toilet roll and flour with my home made macaroni cheese and cottage pies!
We then started to work with the main NHS meal outreach service providers, who were ordering hundreds of meals from us almost every day.  Suddenly we were not creating fancy canapes on bamboo sticks, hog roast, or bowl food, but purchasing hundreds of disposable biodegradable takeaway boxes and filling them with proper, homemade, hearty cooked food for the hungry frontliners to enjoy on or after their shifts. 
During the night we would often receive thank you emails, texts, and messages via our social media thanking us for our meal that night. I suddenly realised that Lavender was really making a difference in what was such a horrible, challenging and sometimes very scary time. 
And then you had a Royal visit?
A good few weeks into the programme, we were contacted by the team at Surrey Hills Enterprise, a business we are a member of who values, creates and promotes amazing businesses that work and produce within the Surrey Hills. We were informed that we had been chosen to have a very special 'Royal' Visitor who would like to come and meet us, see what we are doing and help us for the day.
The kitchen was buzzing, we were all so excited and couldn't quite believe it. My husband Martin then spent the entire week leading up to the big day, pruning, cutting, mowing, and planting so our garden looked fit for the visit.
Early on the 6th May, having adorned our garden with bunting and the sun shining down, HRH Sophie, the Countess of Wessex, arrived with her security team.
We accompanied her to our kitchen to help us prepare our meals. She stayed at chatted all morning with us and showed so much interest in what we were doing. After she had helped make a few hundred meals for us she then headed up to The Royal Surrey, one of the hospitals we are feeding to hand out the meals and lots of delicious sweet treats for afternoon tea delivered, that our local home bakers are making for us.
We have about 40 bakers in and around our village. We provide most of the ingredients and they all just love to bake like crazy. Our younger bakers have been decorating all the boxes and sending their good wishes and words of encouragement to all the frontline that they stick up in the mess rooms.
What will you take away from the 2020 Covid Crisis and why did you want to get involved with this?
The simple answer is helping those in need has given us a great sense of reality. We have slept very little, cooked nearly every day, peeled, boiled, created, steamed and stirred an enormous amount of food but every single minute has been a huge humbling experience for us. We have listened, shared and cried with our friends and families, we have met some amazing people and above all we have made some memories that will last forever in our minds and created a tiny bit of history that our children will talk about in years to come.
Being a feeder for the frontline and vulnerable and a sponsor of Project Wingman has without doubt been an enormously humbling experience.
What do you think the 'new normal' will be for Lavender?
I have no idea how our new landscape will look, but for now, we are continuing to feed whoever needs feeding.
As we start to head into our new normal, we are looking forward to working with The Royal Surrey again to help fundraise for their neonatel campaign, Closer to Care. The project aims to put families at the heart of their babies' care, giving vulnerable newborns the very best start in life by offering a place where new mums and dads can finally stay whilst their little ones remain in the safe care of the unit.
We will continue to feed the vulnerable in the surrounding areas on a daily basis. Reliant totally on donations, for the price of a posh coffee the very kind donations turn the pennies into a lovely home cooked meal that gets delivered to their door.
We are also offering delicious treat teas for missed love ones, people who are still isolating or celebrating a birthday or special occasion.
Personally I think for this year there is going to be no big parties, no weddings or celebrations, events or large gatherings that could call for catering service. And even if there are I don't think everyone would want to take the risk of socialising in a close proximity of others. 2021 will be the year of celebration. For now, we will press on with what we are doing and try and embrace whatever that new normal is going to be for us.
Melanie Williams, Executive Head Chef of Lavender Catering.
For further information please contact us at Hello@lavendercatering.co.uk or telephone us on 01372 800626
Follow us on Instagram: @lavendercateringteam or facebook: lavendercatering