We are of course in lockdown #2 now until 2 December. Fingers crossed that we can all get back to enjoying a little more normality after that, and that includes meeting up for coffees, meals and drinks.
Looking forward to better times, we've compiled our favourite places in South-West London and Surrey to head to for a perfect coffee (or wine!) date. All have great outdoor space, just in case that's where we'll have to stay in December too.
There's something magical about an autumn stroll, warm takeaway cup in hand. Leaves fall, conversation flows, and lockdown anxieties slip our minds, even if only for a minute. So whether you're after a fantastic takewaway brew, some new vegan treats, picturesque surroundings, or the best Covid-friendly outdoor cafes, we've got you covered.
2 Love offers a choice of 15 single origin coffee blends, 50 loose leaf teas from around the world, and a rich selection of otherworldly fresh, gluten-free, and/or vegan pastries (we love the doughnuts). Not to worry if you're not a coffee connoisseur – 2 Love baristas know their stuff. Tell them what flavours you prefer and they'll whip up a coffee of your dreams. Extend your state of tranquility by taking your coffee on a 12-minute journey by foot to Clapham Common, away from the hustle and bustle of the high street.
Editors' choice: Indonesian Raja Batak blend, or a loose leaf chai latte.
Bonjour Brioche, Wimbledon
Fancy a trip to Paris? Bonjour Brioche is the way to go. Cozy, friendly, and buzzing with local fans, add this side street café to your list for the next time you're meeting a friend for takeaway. Pairing classic French pastries – crumbly croissants and rich pain au chocolats – with a Turkish twist on brunch and the very best of British cakes, make sure you grab some grub with your takeaway coffee, too.
Editors' choice: a mocha with banana bread never fails to warm up our chilly mornings.
There's a reason why Local Hero is always busy. With smooth coffee, delicious brunch, and that irreplaceable small town, community vibe, customers return again and again. Local Hero's Fulham branch is equally impressive, but Kingston gets bonus points for location: the Thames is just around the corner and, at this time of year, is comfortably quiet. Perfect for a walk and talk (and sip).
Editors' choice: almond flat white. Local Hero baristas do wonders with latte art, and it always puts us in a good mood.
If you're still feeling the tennis-shaped hole in your heart after the cancellation of this year's Wimbledon Championships, it might help to know that Sir Andy Murray and Maria Sharapova have raved about Maison St Cassien's 'great service'. And for good reason – this Lebanese and Mediterranean café serves some of the best food around. Outdoor seating is available, too, so you can watch the world of Wimbledon go by as you rest before/after exploring what's new on the high street.
Editors' choice: you can never go wrong with baklava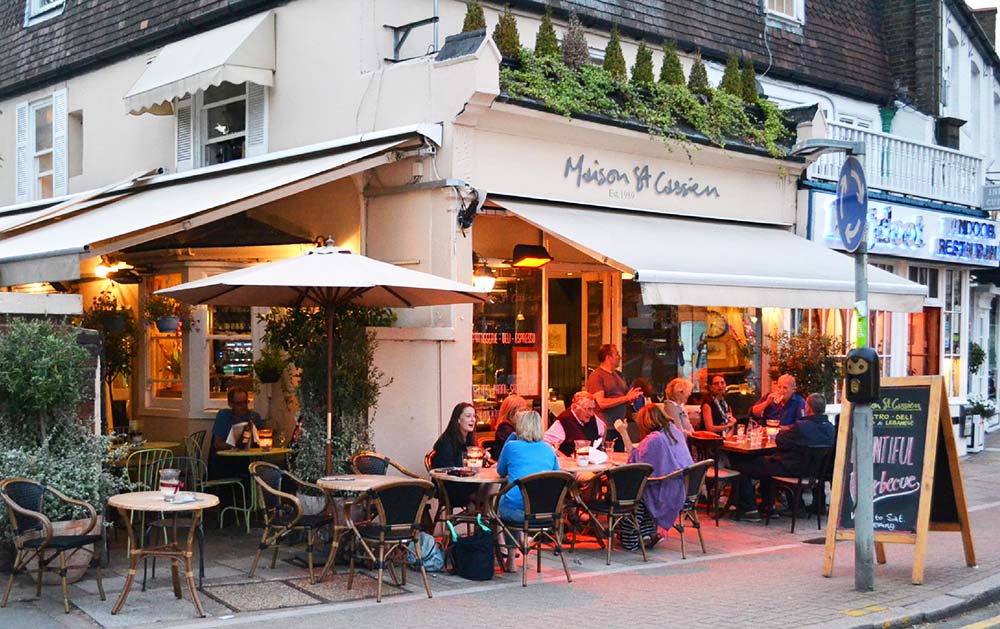 In line with current guidelines, Megan's is only taking table bookings from members of the same household, but mixed groups can take advantage of outdoor seating, as well as takeaway, of course. Megan's has become renowned for the rustic baby blue, floral aesthetic, great food, and time well spent.
Editors' choice: Cappuccino, half-baked cookie dough, and Hackney Gelato. Don't share it; it's too good.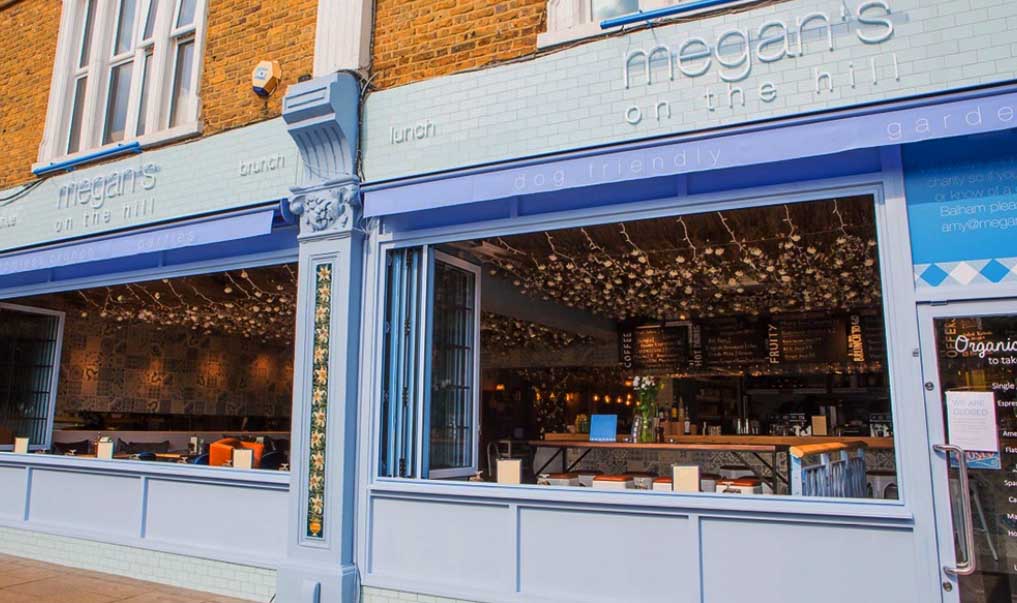 The Retreat Kitchen may be one of Richmond's most well-kept secrets. Trading under the tagline 'earth-friendly food', the atmosphere of this place will leave you relaxed and inspired. Aside from serving hand-roasted coffee from the Old Spike Roastery, a social enterprise that supports the homeless, the Retreat Kitchen have curated affirmation concoctions in the form of Herbal Chakra Teas. And with Richmond Park less than a 15-minute walk away, grabbing a vegan brownie (or three) for an autumnal picnic might not be such a bad idea.
Editors' choice: 70% dark hot chocolate with coconut sugar.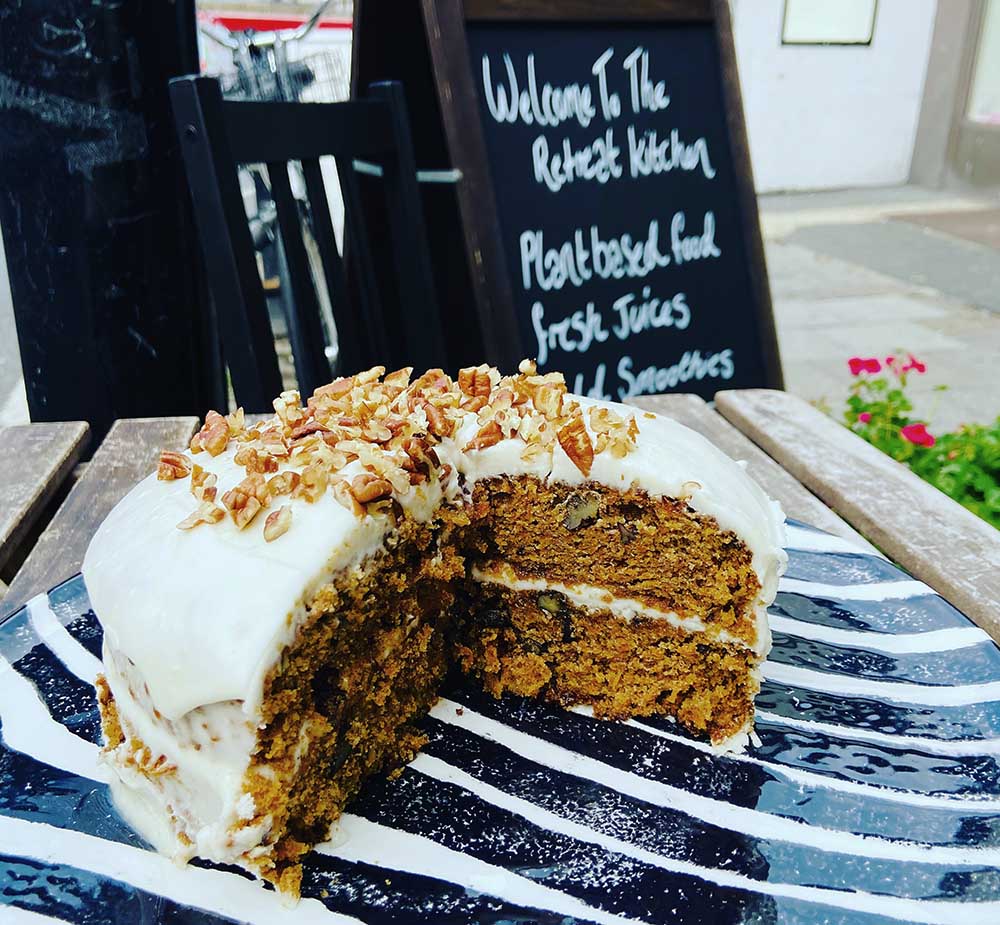 Dimmed lights, exposed wood, and bold artwork makes Tribe stand out just as much as its fully vegan menu. Gourmet food, a fresh juice bar, and great coffee have put this Black-owned business on the map for the residents of Streatham and beyond, and the high street and neighbouring parks are great takeaway destinations. And if you work from home, bring your laptop and enjoy Tribe's co-working spaces once all of this blows over.
Editors' choice: blueberry bakewell and a latte. Heaven.
Long time Darling readers will know that we spend an awful lot of time at The Ivy. Whether it's a fancy dinner, a casual lunch, or a quick espresso, the gorgeous setting and top class service keeps us coming back for more. When it comes to taking away, both their Richmond and Wimbledon branches are in prime location, so take a pick – Wimbledon village or Richmond riverside?
Editors' choice: nothing beats a Blood Orange Margarita on a Friday evening, but the Rosebud Oolong tea is fantastic, too.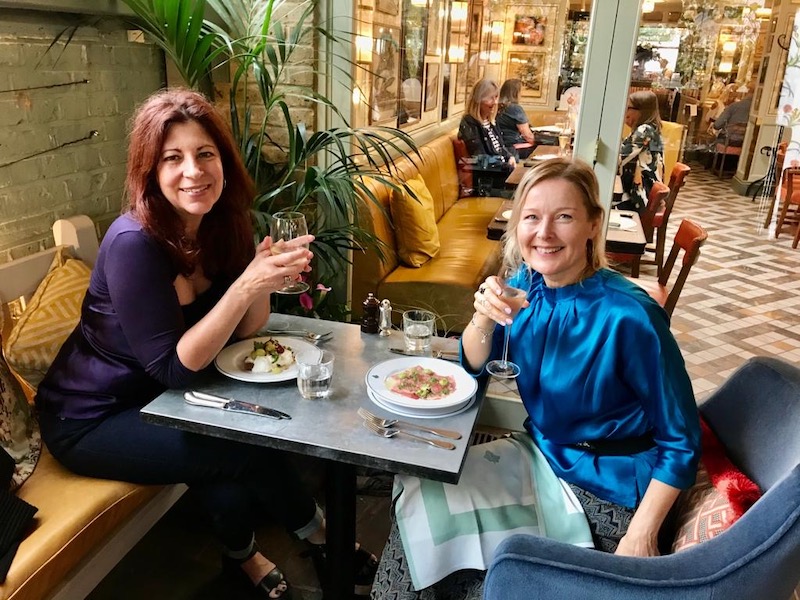 The Terrace, Kingston
If oak beams, exposed brickwork, and sunny terraces are right up your street, this is the place for you. Tucked away in Kingston's Apple Market, just around the corner from the riverside, The Terrace offer scrumptious treats, great drinks, and plenty of outdoor seating. Whether you're staying or taking away, their selection of sandwiches, cakes, and salads never disappoints.
Editors' choice: we love the Breakfast Bloody Mary, virgin or not!
Darling's favourites for an evening catch-up
As far as pubs go, we've scoured the local scene for the best food, most classy drinks, and the most comfortable outdoor seating to help you plan the perfect Covid-safe catch-up over a glass of wine.
Surrounded by stunning scenery, 144 On The Hill is one of our top destinations for food and cocktails. Renowned for its Georgian charm and welcoming atmosphere, 144 On The Hill serves seasonal dishes, fantastic drinks, and is all-round a spot you won't want to miss. Their new spacious terrace is fitted with cosy heaters, though opening times depend on the weather, so you might want to give them a ring and double check before you head out.
Seasonal British dishes, hand-selected craft beers, and well-reviewed Negronis, Canbury Arms is a firm favourite of the locals. The food and drink menu boasts the best of pub classics, and there's something for everyone.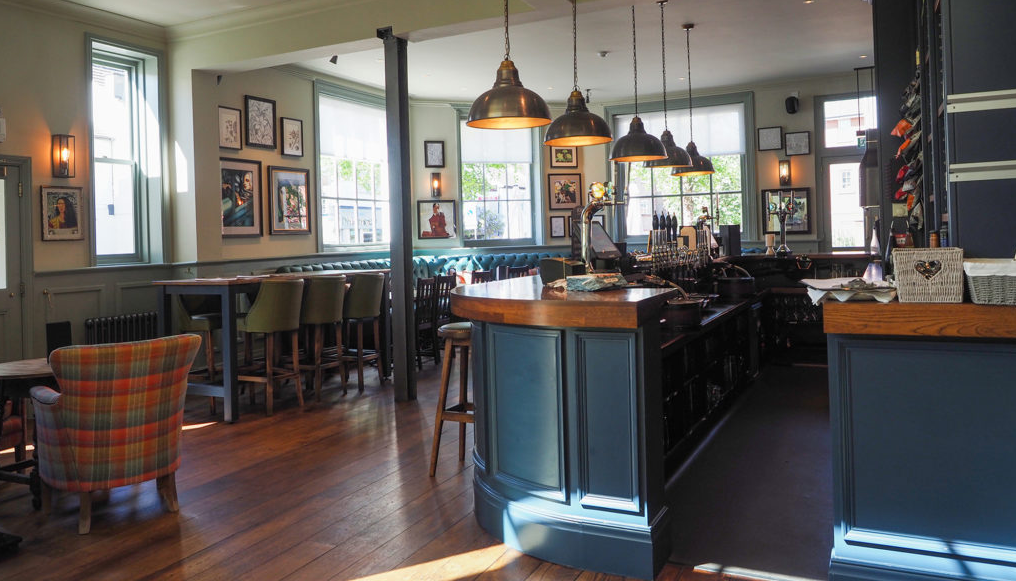 If there's one thing Dog & Fox are proud of, it's their fresh, British produce and scrumptious ingredients. The Young's chain has been working tirelessly to provide visitors with quality, Covid-safe service, and Dog & Fox have gone above and beyond with their wonderful, recently opened new wing and atmospheric outdoor patio. The wine list is impressive, from rich and fruit to crisp and spicy, and we've got our eye on that Coconut Panna Cotta. It sounds divine.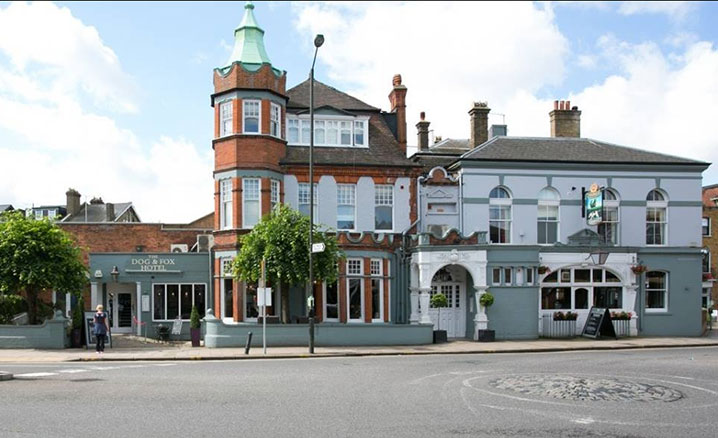 In the heart of Cannizaro Park stands a heritage building so beautiful it would almost be sin not to sit down and soak in the atmosphere. Hotel du Vin's bar team makes splendid drink suggestions based on your mood and the occasion, so it really is a prime location to meet with a friend for a few hours.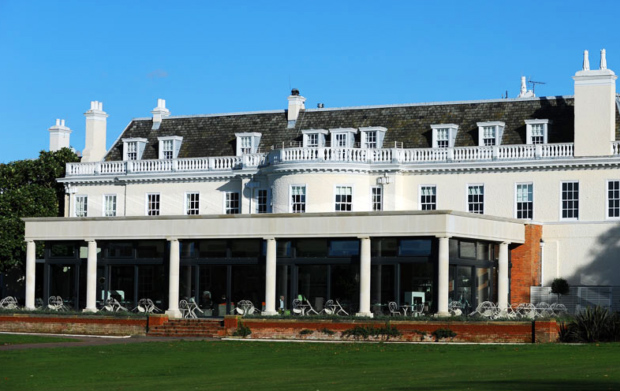 You'll want to hurry to this one – The King's Head have extended the Eat Out to Help Out offer until the end of October, so book a table in their atmospheric patio and order a la carte from the open kitchen, whether you'd prefer a fluffy cheese souffle or a duck confit. Their wine list is exceptional.
The independent, family-run Wych Elm has responded responsibly to Tier 2 restrictions, presenting guests with a range of options depending on their situations. The garden is open to all, no matter their household, and Kingston's best kept secret continues to provide the neighbourhood with great food, drink, and friendly service.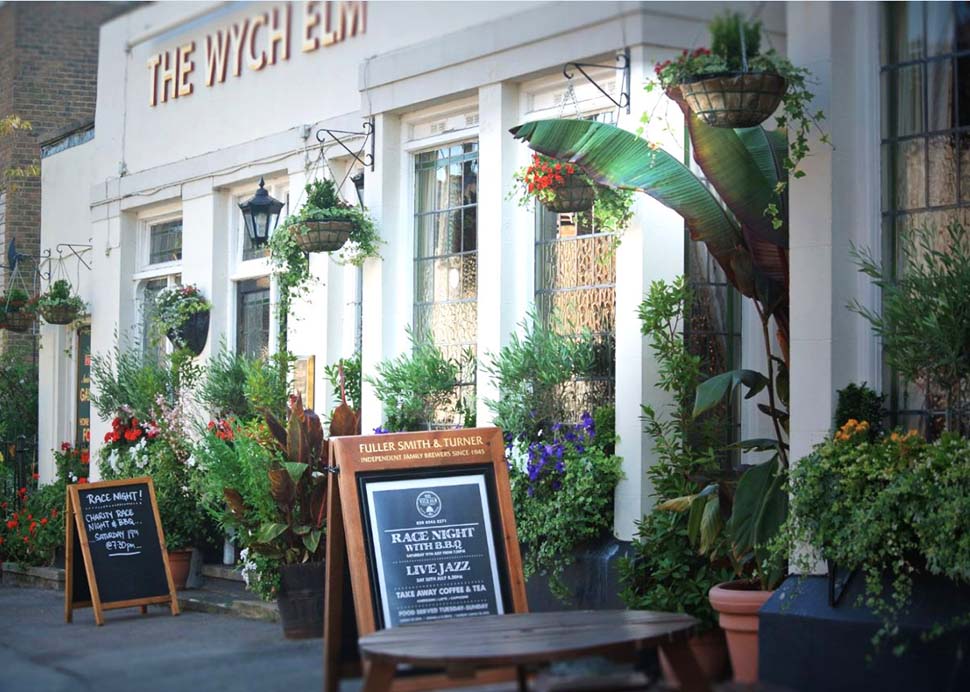 Keep in mind that the possibility of meeting friends and family, even outside, is subject to change as Covid-19 restrictions are reviewed. As of now, stick to the Rule of 6, stick to your bubble, and stay safe out there.
You might also enjoy reading: