Here are some of our current favourite series on Netflix and Amazon Prime. Hope you'll enjoy them too.
Please get in touch with your favourites.
A Suitable Boy
There's something about period dramas that transform our state of mind and offer a healthy dose of escapism. This BBC iPlayer six-part series is a classic forbidden love story adapted from Vikram Seth's bestselling book. And it does keep you on the edge of your seat – will Lata follow the pressures of her family and society or will she follow her own path, her own love, and her own future?
My Octopus Teacher
If you're looking for something to brighten up these gloomy afternoons, this Netflix documentary follows filmmaker and producer Crai Foster's unusual friendship with a common wild octopus. The way we connect with nature is truly astounding, and following the lessons learned from the life of an octopus living in a South African kelp forest is incredibly wholesome. The story lives up to its good reviews in every shape and form.
A Life On Our Planet
The world's most loved and respected environmentalist and Emmy-winning narrator Sir David Attenborough returns to Netflix with another heart-wrenching documentary.
At 93 years old, Attenborough has set foot on every continent, exploring both the wild and the urban spaces that surround us. But during his lifetime, he has also 'seen first-hand the monumental scale of humanity's impact on nature'. A Life On Our Planet is an incredibly moving recount of David Attenborough's life and experiences, a powerful witness statement of a man who has seen more of our wonderful world than any other.
'He introduced us to the world. Now he tells his greatest story.' We'd better pay attention.
RBG
Netflix
"Women belong in all places where decisions are being made. It shouldn't be that women are the exception."
A true champion of women's rights, Ruth Bader Ginsburg, was the second woman ever to serve as a justice on the USA nation's highest court and the first woman to be granted tenure at Columbia Law School. Her trailblazing work will live on.
This documentary doesn't just chronicle the legacy of 'Notorious RBG', it also strings together a litany of love stories. The first focuses on the bond between her and her mum, whom she lost aged 17. What followed was the enduring respect between her and husband Marty, which then spilled forth through her tireless work, ensuring millions felt heard.
Remember: "Fight for the things you care about, but do it in a way that will lead others to join you."
RITA
We are cheering for the return of Rita to our Netflix screens, the Danish series that has given us four, soon to be five, seasons of pure, unadulterated TV viewing delight.
Starring Mille Dinesen (Borgen, Those Who Kill), Rita has garnered fans across the globe for its brilliant storytelling, thought-provoking social commentary, hilarious moments, and, of course, the character of Rita Madsen — the inimitable, irrepressible, unconventional, unpredictable, and totally irresistible single mum and schoolteacher we've loved since day one of the series.
Indian Matchmaking
Love it or hate it, this is great for a bit of Netflix binge watching, possibly for a good laugh on the weekend. It's an eight-part series about the very diplomatic Indian match maker, Sima Taparia, whose task it is to find suitable partners for clients in India and the USA. It's a fun watch and a great insight into this age-old tradition but with a modern twist. I was pleased to see that at least the prospective candidates get to actually make up their own minds, despite immense pressure from parents desperate to see their kids married off. I liked the glimpse into the lives of these brave bachelors and bachelorettes as they allow the cameras in on their dates, hoping that each one would be 'the one'. It's honest and entertaining and not to be taken too seriously!
Little Fires Everywhere
So enjoyed this new Netflix series to hit our screens recently. In my eyes your can't go wrong with Reese Witherspoon, even though she always seems to play the same character type – matriarch in control of the 'perfect family'. This story has some good twists but I like the underlying theme of motherhood the two main characters portrait, each coming from very different socioeconomic backgrounds and how they both entice each other's children as they explore their rocky relationship. Kerry Washington as deep, intense counterpoint, running away from dark secrets is stunning too and the climax builds brilliantly. A good watch and ends on a big suspenseful high like all good season ones should!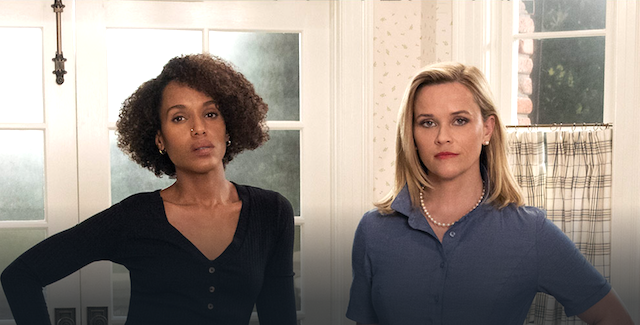 Mrs America
For women of a certain age, we could be looking at our mothers and fascinated to think that they were grappling with the issues of women's liberation while we were being raised in the 70s. How it impacted on their idea of themselves as housewives, mothers or working professionals. Similarly how our fathers behaved in the same male chauvinistic fashion without us being aware of it. Cate Blanchett plays the archetypal Republican, apple-pie mom with a brain who finds an outlet for her intellectual passions in bizarre 19th century notion of the domestic goddess. This series with it's stunning styling brings the 70s feminist icons such as Gloria Steinem and Betty Friedan to life as we shake out heads, wondering how the Schlafly brigade were persuaded to fight the Equal Rights Amendment act which could only have been in their own interests. BBC2 and on iPlayer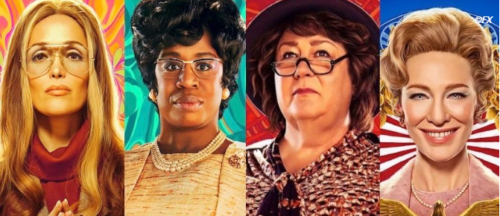 Self Made
This Netflix drama is the story of the life of Madame C.J. Walker from a biography called 'On Her Own Ground' by A'Lelia Bundles. An uplifting story of how Madame Walker became the first African American self-made female millionaire at The turn of the century and her journey taking black hair products to women throughout the United States. She faced much rivalry and hostility, ultimately becoming the self-made woman that she was and an inspiration to millions.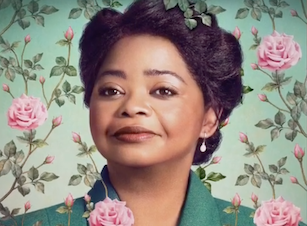 Athlete A
An other first class Netflix documentary that has shocked the US. A team of investigative journalists from a local paper, The Indianapolis Star broke the the news about young gymnasts who had suffered abuse by the USA Gymnastics doctor Larry Nassar. Their brave actions to come forward exposed the culture within the national body which was aware of the abuse, yet allowed it to continue for years.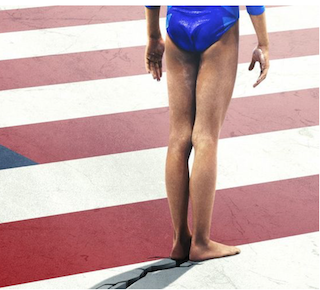 Unknown Parts – Anthony Bourdain
Celebrity chef Anthony Bourdain takes us on a long journey to extraordinary places – 12 seasons worth! He's very watchable and his cities and countries that aren't glossy or five star let's say. We see the everyday, slightly darker side of life, using food as a thread. The cultures are all so different and fascinating – and the food part I love. But more than anything Anthony's confrontation of the political issues are what fascinate me. From Myanmar, South Africa, Columbia to Antarctica, Quebec and Los Angeles – too many to mention. Highly recommended for dipping in and out of. Netflix
Tidying up with Marie Kondo
Marie Kondo, Queen of Clutter, has risen to Fam at the right time – or at least is coming into her own during lockdown. She's been around for a few years but now that we're stuck at home with more time on our hands, getting rid of our clutter is some thing that people are now turning their attention to. Stuff is not the enemy who does it spark joy technique really does work give it a go and freedom is yours. Tidying up with Marie Kondo on Netflix.
The Creative Brain
David Eagleman, a neuroscientist, asks: what's creativity? This documentary looking at fields like art and science and the innovators in it, asks where the spark of creativity in the brain comes from how we can expand our minds and push them to the limits. Netflix.
Rotten
One of the latest documentary series on Netflix. These pretty harrowing episodes expose the corruption and greed associated with different sectors of food production that we take for granted. From honey, milk, fish, chicken, cocoa beans used in the chocolate we love to treat ourselves to, to the avo fad the world has embraced in it's quest for the next miracle health food. Invariably it involves a modern day slave trade at the bottom of the food chain or Mafia style organised crime which has sort to focus on food instead of actual drugs – its 'legal' stuff, to deprive people of resources such as land and water, basic human rights, really. Corporations don't seem to be interested in supporting the suppliers who are mostly, of course, living in third world countries and being massively exploited. Eye opening and thought provoking.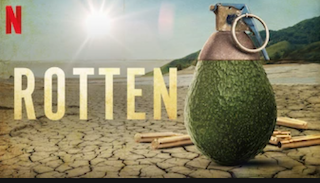 Unorthodox
A Hasidic Jewish woman in Brooklyn flees to Berlin from an arranged marriage and is taken in by a group of musicians — until her past comes calling. The story of Esther Shapiro, her journey to Berlin, and her decision to leave her religion behind are all based on the real life story of Deborah Feldman. Deborah was born in 1986 and she was raised in Williamsburg, Brooklyn, in a Hasidic Satmar family. I watched all the episodes but it ended with so many loose ends, I'm sad that a sequel is not on the cards.
Hollywood
A brand new stylish romp following a group of aspiring actors and filmmakers in post-WWII Hollywood in the late 40's as they try to make it in the movie industry, at almost any cost. Each character offers a unique glimpse behind the gilded curtain of golden age of Hollywood, noting entrenched power, challenges to that power, and biases, particularly against the role of women at the top of that tree, that continue to this day. Big budget production values and a fun watch – not too challenging! Netfilx.
Inside Bill's Brain: Decoding Bill Gates
Fascinating insight behind the scenes at Microsoft headquarters. A candid protracted interview with Bill, which took 2 years to film and shows him as a real person. Plus you get the background story of the Melinda romance, which I found fascinating. I like the personal background stuff. Plus of course, the amazing international projects that their foundation is involved in. Of course it's a real great PR piece but he deserves it! Netflix.
Ozark
A financial adviser drags his family from Chicago to the Missouri Ozarks, where he must launder money to appease a drug boss. A satisfyingly complex plot and a gripping performance from Jason Bateman, Laura Linney, Sofia Hublitz, Skylar Gartner and Julia Garner. My family loved this series but I struggled to get past episode 2 – but what do I know? Netflix.
Money Heist
You might think you've already watched every single good show on Netflix but if you've missed Money Heist check it out next. You can even brush up on your Spanish skills. The show is now on its fourth season and started streaming last summer.
The first two seasons tell the tale of El Profesor (Álvaro Morte), a brilliant and nerdily attractive introvert who rounds up a team of mostly good-looking misfits to steal billions from the Royal Mint in Madrid. All while Inspector Raquel Murillo (Itziar Ituño) tries to catch them. Oh, and there's a lot of sexual tension between El Profesor and Inspector Murillo.
It's sort of Ocean's Eleven meets Killing Eve, but in Spanish and with no serial killers. Netflix.
Tiger King
Eric Goode was filming a documentary about the reptile trade when he met a guy with a snow leopard in the back of his van. He spent the next five years and in around the big cat community in the United States, where there are more tigers in captivity than exist in the wild. This seven-part true crime series on Netflix explores a feud between two of them – a gun-toting, mullet-wearing, country-singing zoo owner from Oklahoma called Joe Exotic, and animal rights activist Carole Baskin, who has some secrets of her own.
How to Fix a Drug Scandal
Great four-part series, based on a true story and one of the best crime documentaries on Netflix at the moment.
Wild Wild Country
This is one of the best Netflix documentary series about the controversial Indian guru Bhagwan Shree Rajneesh (Osho), his one-time personal assistant Ma Anand Sheela, and their community of followers in the Rajneeshpuram community located in Wasco County. A fascinating journey back a few decades.
5 of the top 10 longest lockdown boxsets – no need to watch them back-to-back though:
1. Law & Order – 19 days
2. NCIS – 16 days 11 hrs
3. Grey's Anatomy – 14 days 21 hrs
4. C.S.I – 14 days 9 hrs
5. The Simpsons – 14 days 4 hrs 30 mins
To send us your best shows please email info@darlingmagazine.co.uk and tell us why.
BBC I-PLAYER PICKS THAT GRABBED US
The Honourable Woman
With Maggie Gyllenhaal, Stephen Rea and Lindsay Duncan
Even if you are not a big fan of mini series; we'd urge you to give The Honourable Woman a go. From the very first episode, it drew me into this fast action packed drama as if I were there. Loved the political tension and the insight into the Israeli-Palestinian relations.
The Honourable Woman is a 2014 British political spy thriller television miniseries in eight parts, directed and written by Hugo Blick for the BBC and Sundance TV. The viewer is dropped in the middle of the action right from the start…Going back eight years, a younger Hayden-Hoyle climbs the ranks of MI6 whilst Nessa and Atika endure atrocities during their time held captive in Gaza and their captors scheme as to how she can best serve their cause. You'll just have to watch this brilliant series till the end.
Normal People
Based on a novel by Sally Rooney, this Irish story of the developing relationship between Marianne and Connell starts at school with both from opposite ends of the social spectrum, to their undergrad years at college. Very intense and strangely gripping.
Killing Eve
This popular, stylish, award winning spy thriller with Sandra Oh and Jonie Comer, involving British Intelligence police investigator, Eve, and psycho assassin, Villanelle, take their obsessions with each other to the limit. The plot is just too complicated to explain here! But well worth watching.
The Nest
Dan and Emily want for nothing in life except to have a baby. After an early chance encounter, a surrogate teenager comes into their lives, bringing a lot of her own baggage with her that the couple had not bargained for.
WALTER PRESENTS – A CRITIC WITH IMPECCABLE TASTE
The Truth Will Out
A riveting Swedish thriller is Nordic noir at its best. Based on an extraordinary true story. The darkness and twists in this crime thriller are all psychological when a tormented detective reopens a famous case.
https://www.channel4.com/programmes/the-truth-will-out
Just One Look
This gripping French thriller based on a Harlan Coben book sees Eva Beaufils's world turned upside down when she finds an old photo of her husband, Bastien, with three other people. This seems to spook him and next thing she knows he's disappeared! She sets out to look for him. You just can't put this one down!