Surrey has been dubbed the melting pot of arts and history, inspiring some of the UK's most influential and widely-acclaimed artists. Explore Surrey's top outdoor art exhibitions this summer and you might not need to fly to the art capital of the world after all.
If a summer's day spent strolling along forest paths and garden ponds, admiring art created in the UK and beyond, sounds like your cup of tea, read on. Whether you're an art connoisseur or an occasional visitor of the likes of The Ingram Collection, you'll love these outdoor exhibitions across Surrey.
The Sculpture Park
10am-5pm, Monday to Sunday
Churt, Farnham, GU10
Delightfully eclectic and atmospheric, The Sculpture Park is the world's largest sculpture exhibition open all year round. One of Surrey's most precious hidden gems, it showcases the work of 300 modern and contemporary sculptors over two miles of breathtaking woodland trail.
New exhibitions include 'Little Zimbabwe', a tribute to the country's art scene, where all proceeds from sold sculptures are donated to community and education support, and we can't get over the majestic 'Horseshoe Dragon'.
The Park takes full advantage of the beauty of Surrey Hills' natural contours, lakes, and trees, sitting within an arboretum and wildlife-inhabited water garden spanning across ten acres. When it comes to outdoor art exhibitions, what more could you want?
Although its exhibits are always changing, The Sculpture Park has had an extra special makeover during lockdown and can't wait for you to see it. Check ticket prices and pre-book your trip at thesculpturepark.com
The Hannah Peschar Sculpture Garden
10am-5pm, Thursday to Sunday
Ockley, Dorking, RH5
In the organisers' own words, The Hannah Peschar Sculpture Garden has been proudly exhibiting contemporary sculpture in a unique and magical environment for over 35 years, being one of the first of its kind in the UK.
The Garden itself is a work of art, designed in harmony with the seasons and ever-changing light, but pieces like Robert Harding's 'Eve's New Leaf' and Frederick Andrew's 'Passage' are almost other-worldly. A powerful overriding theme is the way nature frames the Sculpture Garden's pieces, each placed in harmony with its surroundings. Be sure to bring a camera.
For ticket prices and to pre-book your visit go to hannahpescharsculpture.com
Watts Gallery – Artists' Village
10am-5pm, Monday to Sunday
Compton, Guildford, GU3
Discover the life of Surrey's own G.F. and Mary Watts in a tour of their studios, exploring the works of the greatest painter of the Victorian era who embodied the most pressing themes and ideas of his time.
The permanent collection includes paintings, sculptures, and pottery, as well as the Grade I listed Watts Chapel, an artistic masterpiece created by Mary in the 19th century. Transport yourself in time as you step into Limnerslease, take a stroll around the Woodlands and Gardens, and take a look at the iconic Compton Pottery. And, in true Victorian spirit, make sure you pay a visit to the Tea Shop for a cream scone (or four).
Some exhibitions are free, but head over to wattsgallery.org.uk for a full list of events, ticket prices, and to plan your visit.
Surrey Sculpture Society's 'Art in the Garden'
9:30am-6pm, 23rd September to 1st November
9:30am-4:30pm, 2nd and 3rd November
Englefield Green, Egham TW20
Hosted in The Savill Garden, Surrey Sculpture Society's inaugural open-air exhibition takes advantage of 35 acres of gorgeous greenery within the boundaries of Windsor Great Park. Whether you're a fan of modern abstract or classical styles, take in the golden hues of autumn and enjoy a diverse range of 66 sculptures, each strategically positioned to complement the unusual plants and trees of the garden.
Surrey Sculpture Society works to encourage interaction and exchange of ideas between the sculptors of Surrey, enabling exhibitions and promoting an appreciation of art. Art in the Garden strives to achieve exactly this – exhibitors range from new and emerging to internationally-acclaimed sculptors from across the south of England.
Kids love following the sculpture map, and all artwork will be available for purchase if you're looking for some elegant decor. Book your tickets at windsorgreatpark.co.uk/art.
Birtley Woodland Art Fest
Saturday, August 29, 10:30am-4:30pm
Bramley, Guildford GU5
Visiting art exhibitions tends to awaken the artist within, leaving us inspired but unsure where to start. Birtley Woodland Art Space have built their reputation on teaching the arts of wood carving, willow craft, pyrography, whittling, and other heritage crafts to the local community, accompanied by birdsong and the canopy of the trees.
Find inspiration in the picturesque lakes, gardens and woodland walks of the Birtley Estate and bring a piece of the gorgeous Surrey Hills home with you. Led by art professionals and nature enthusiasts, it's bound to be a fascinating day for the whole family.
Spaces are limited to allow for social distancing, so grab your tickets while you can!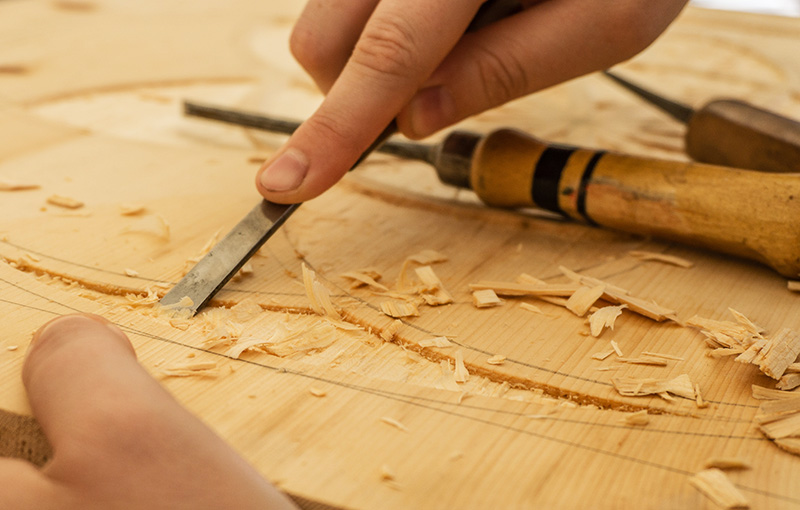 If you're into Surrey art exhibitions, might also enjoy reading…